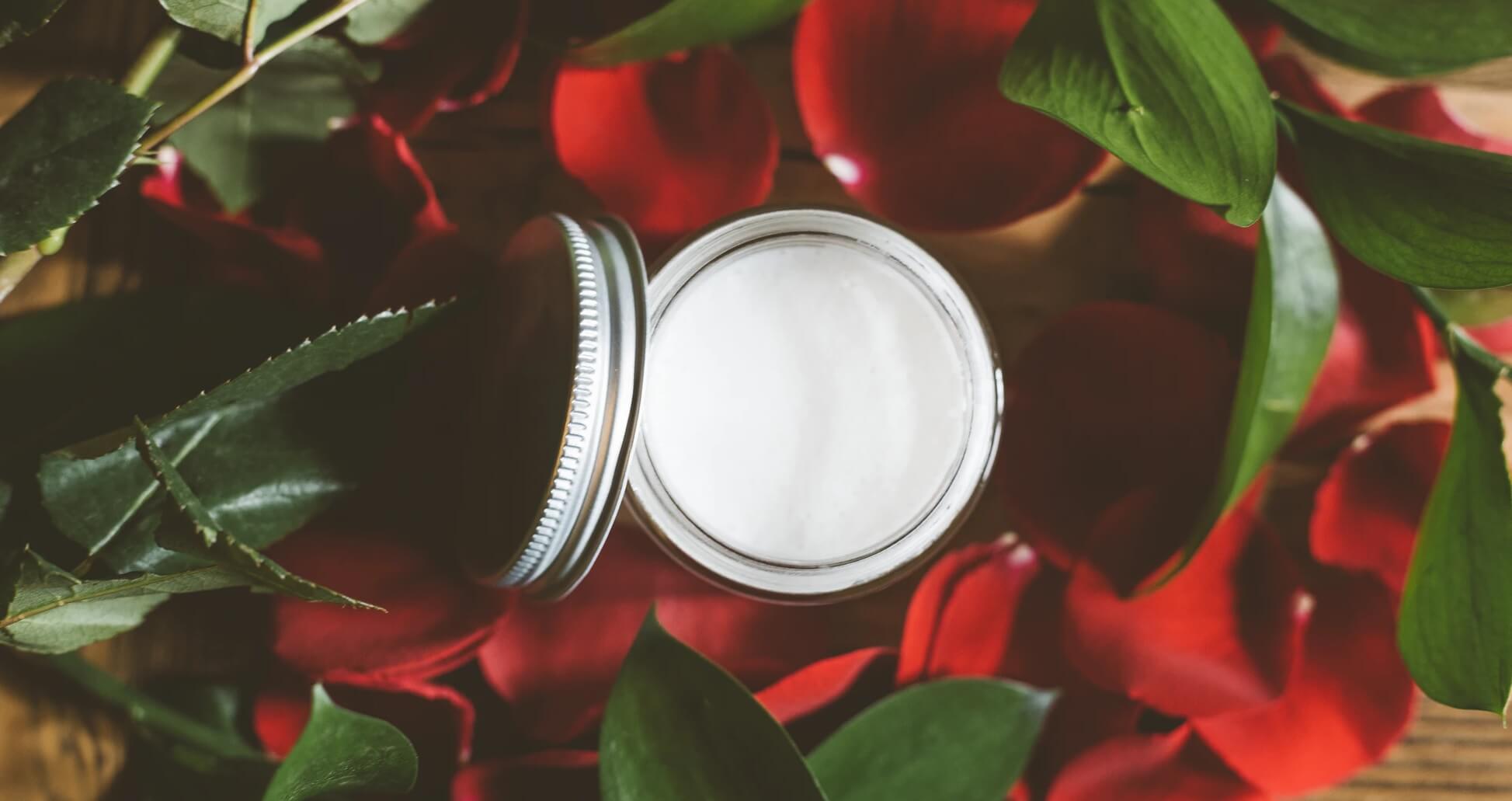 The anti-aging and wrinkle cream sector of the cosmetics industry is big business. It is currently worth a staggering $53bn worldwide and is growing at a faster rate than the market for most other cosmetic products.
Unfortunately, many consumers end up getting ripped off by overpriced products that don't work particularly well. Many of these companies aggressively advertise serums and creams that prey on common insecurities. This can persuade some people to part with $300 for a product that costs just $2 to make.
The good news, however, is that some anti-aging products follow an evidence-based model and don't actively seek to deceive their customers. These products can be hard to identify (even for a trained eye), so we put together this comprehensive guide to anti-aging serums.
Our team goes to great lengths to unearth the best products to make it easy for you to shop with confidence. A small percentage of the links in our Buyer's Guides are Amazon.com "affiliate" links. This means we receive a small commission on qualifying purchases at no extra cost to you. This is nothing scary — it simply means our amazing research team can be fairly compensated for their extraordinary work. Read more about our editorial standards.
Best Anti-Aging Serums
Best Value For Money: Tree of Life's 3-Pack for Face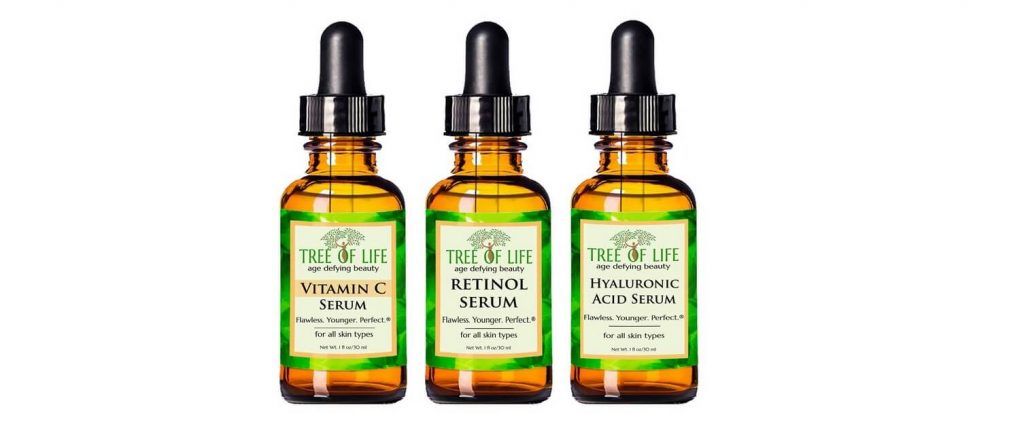 Major cosmetics brands invest billions in marketing campaigns each year to woo consumers who face an ever-increasing range of options. Boutique skincare labels have challenged the dominance of established players and savvy buyers now realize that there are potentially cheaper and more ethical alternatives in the pursuit of youthful-looking skin.
Tennessee-based Tree of Life, started by Ellyn Davis in 2013, is one such brand. Without compromising on quality, upstart brands like this one are able to deliver effective anti-aging products at a lower price than rivals.
How? Well, for a start, there are no costs to recoup from multi-billion dollar ad campaigns. This allows companies like Tree of Life to create and sell products with similar (or better) ingredients at a lower price.
Aggressive advertising masks the reality in the anti-aging skincare market that effective ingredients work regardless of what brand is attached to the bottle. Indeed, the same goes for ineffective ingredients.
Fortunately, there is extensive science to back each of Tree of Life's three anti-aging serums:
Vitamin C promotes collagen synthesis, reduces inflammation, lightens hyperpigmentation, and offers a degree of protection from UVA/B rays (1, 2).
Hyaluronic acid exhibits anti-wrinkle, anti-aging, and face rejuvenating properties. This is thanks, in part, to its ability to improve skin hydration, stimulate collagen and elastin, and restore face volume (3, 4).
Tree of Life products are manufactured in the US, utilize organic ingredients, and are cruelty-free. Each of the three serum bottles measures in at 30ml, which is typically enough for one to two months of daily use. Best of all, the total price comes in at under $20.
PROS:
Unbeatable price and excellent customer service (Tree of Life promises to reply to all customer inquiries within 24 hours — if they don't they promise to send a free product of your choice)
The formulation includes other helpful ingredients like jojoba oil and witch hazel
The hyaluronic acid serum contains both vitamin C and vitamin E, which work synergistically to reduce oxidative damage to the skin (2)
Organic ingredients and cruelty-free company policy
CONS:
Moderate to high-strength retinol products can cause skin irritation in some people
This is the best way to use the serum(s):

Tree of Life advises that the serums can be used interchangeably
The vitamin C serum is typically used in the morning
Retinol serum is applied in the evening
It is good practice to apply the hyaluronic acid serum after using retinol because its moisturizing properties help counteract potential skin dryness
To avoid skin irritation it is wise to build up your use of retinol from 2-3 times per week to eventual daily use (if you feel your skin can tolerate it)
It is also good practice to avoid excess sun exposure as retinol can cause sun sensitivity
back to menu ↑
Best For Strong Results: Eva Naturals 3-in-1 Anti-Aging Set

The Eva Naturals 3-in-1 anti-aging set is a great choice for anyone seeking to maximize their results while still enjoying great value for money.
The anti-wrinkle skin firming serum combines high strength retinol (2.5%) with both vitamin E and hyaluronic acid. Although this product is slightly more expensive than the Tree of Life set we featured earlier, it provides a few advantages for those searching for even stronger results:
The retinol strength comes in 25% stronger (2% vs 2.5%)
Hyaluronic acid is included in both the vitamin C and retinol serums, which helps the skin retain moisture without the need for one extra step
The Eva Naturals set includes ferulic acid, matrixyl 3000, and a peptide complex
Ferulic acid is a powerful weapon against the degradation of collagen and elastin (7).
Meanwhile, hexapeptides (collagen peptide) have been shown to decrease the total number of wrinkles, decrease the average depth of wrinkles, and decrease the average length of wrinkles after four weeks of use (8).
Although it's clear that Eva Naturals have deliberately packed their retinol serum with hydrating ingredients like hyaluronic acid, high strength retinol can still cause skin irritation and dryness in some individuals.
This anti-aging set may not, therefore, be suitable for individuals with pre-existing sensitive skin or dry skin issues. One way to combat the potential for skin irritation is to build up use slowly — from a couple of times a week up to daily use if tolerated.
Retinol side effects can include irritant reactions such as scaling and dermatitis (5).
If you notice any of these side effects then a gentler anti-aging serum might be the right choice for you.
PROS:
High strength retinol combats signs of aging
Vitamin C serum promotes collagen synthesis and reduces inflammation
Both serums are blended with hyaluronic acid for skin hydration
Ferulic acid and peptide complex also protect the skin and aren't found in many anti-aging products
CONS:
Retinol at a strength of 2.5% might cause irritation and scaling in some people
Price comes in slightly higher than many rivals
This is the best way to apply the serum(s):
Dab a small quantity of the eye gel onto the eye, cheek, and forehead areas. Alternatively, use the product as an all-over face treatment. It can be used morning or night, and under makeup if necessary.
Wash and dry the face before applying vitamin C serum. Apply a small amount and then wait for it to dry before applying moisturizer. This serum is typically used in the morning and can be used under makeup.
Wash the face and then dry before applying a small amount of retinol serum to the face. Retinol is typically applied in the evening.
Acclimatize your skin to retinol by building up slowly from 2-3 times per week to eventual daily use if tolerated.
Avoid excessive sun exposure where possible as retinol can cause sun sensitivity.
back to menu ↑
Best For Sensitive Skin: Vichy LiftActiv Vitamin C Serum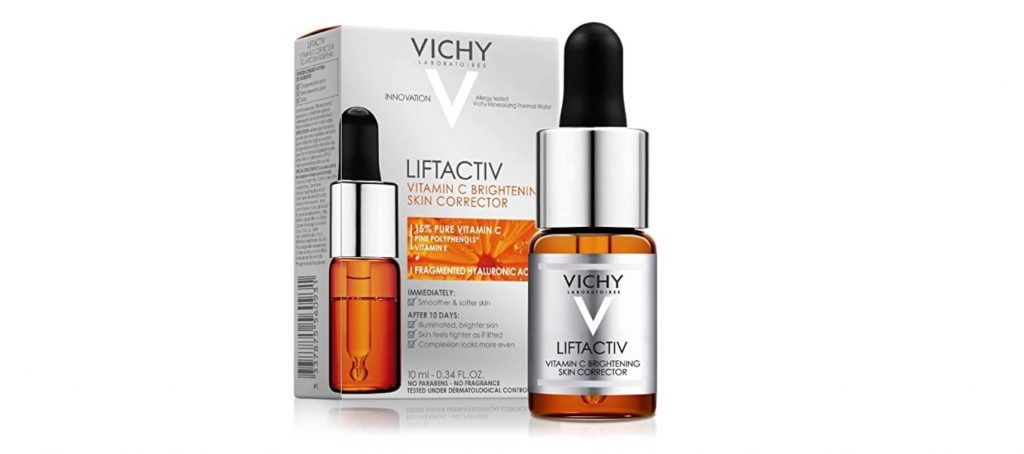 Inevitably, many people have concerns about the side effects that harsh skincare products can have on the face. In particular, sensitive skin can be vulnerable to the impact of retinol-based anti-aging products.
Although retinol is undoubtedly effective, it does come with some drawbacks. Most notably, it can be drying and irritating to sensitive skin. It can also increase the sensitivity of the skin to direct sunlight.
Vichy's LiftActiv Vitamin C Serum is slightly more expensive than many leading rivals but it comes with a few notable advantages:
The addition of hyaluronic acid makes this serum especially hydrating
Vitamin E is included in the formula (vitamins C & E work together to reduce oxidative damage to the skin (2))
It is formulated with sensitive skin in mind — there are no added fragrances and the ingredient list is intentionally kept minimalist
It does not include retinol and is, therefore, an ideal choice for people who've suffered skin irritation when applying this ingredient
Among the benefits of topical vitamin C are increased collagen synthesis and protection from UVA/B rays (1).
Retinol, as we noted, can increase the sensitivity of the skin to the sun. However, it's worth remembering that you should still always pair vitamin C serum with a broad-spectrum sunscreen.
Finally, the product features polyphenols, derived specifically from pine. According to one review, polyphenol-containing cosmetics may confer a number of anti-aging and anti-inflammatory benefits (9).
PROS:
Good choice for anyone who has found retinol-containing products to be too harsh
Hyaluronic acid can boost skin hydration
Vitamin C & E pairing enhances skin protection
CONS:
Lacks the anti-aging benefits of retinol
Priced higher than some rival products
This is the best way to apply the serum:
Cleanse your face prior to application
Can be used on the neck area as well as the face and eye areas
Apply carefully to avoid contact with eyes
Allow to absorb fully
Can be applied in the morning or evening
back to menu ↑
Best For Oily Skin: Eva Naturals Vitamin C Plus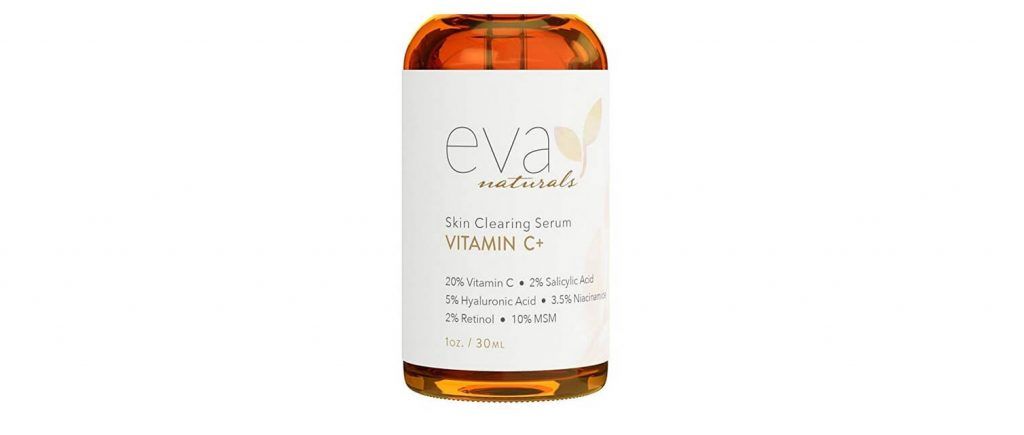 Eva Naturals skin clearing serum is an all-in-one powerhouse. Its multifaceted approach can tackle several common skin issues at once. While it can be a good option for people with oily skin, it's not the best choice for everyone.
This serum is a blend of several active ingredients:
Vitamin C (20%)
Salicylic acid (2%)
Hyaluronic acid (5%)
Niacinamide (3.5%)
Retinol (2%)
MSM (10%)
We've taken time to explore many of these ingredients in our earlier choices. However, the Eva Naturals skin clearing serum features a few other components that may be unfamiliar.
For instance, salicylic acid is a useful weapon against acne breakouts. It works by stimulating natural exfoliation. Salicylic acid preparations are effective at reducing acne and promote smoother skin texture. Unfortunately, some people experience mild peeling and skin irritation as a result of use (10).
Meanwhile, MSM is a popular choice in anti-aging cosmetics due to its anti-inflammatory properties (11).
Niacinamide is a form of vitamin B3. Its benefits extend from reduced inflammation to improved moisture retention and reduced pore size (12).
These properties combine to make the Eva Naturals skin clearing serum a potent option for tackling acne breakouts while also improving complexion and signs of aging.
The product is not necessarily suitable for sensitive skin because of the drying and peeling properties of ingredients like retinol and salicylic acid. If you choose to try this serum it is wise to start using it a few times per week before building up to daily use if your skin tolerates it (5).
PROS:
Great value for money
Ideal for oily or breakout-prone skin
Many active ingredients combating various skin issues
CONS:
May be harsh on the skin and therefore not suitable for all skin types
Must start to use slowly and build up to daily application
This is the best way to apply the serum:
The manufacturer recommends using a patch test on a small area of skin (preferably the neck) to judge whether the product causes irritation before use on the face
Wash and pat face dry before applying the serum
Apply a small amount to neck and face areas
Allow the serum to dry then apply your regular moisturizer on top
back to menu ↑
Best For Older Skin: Ebanel Retinol Peptide Serum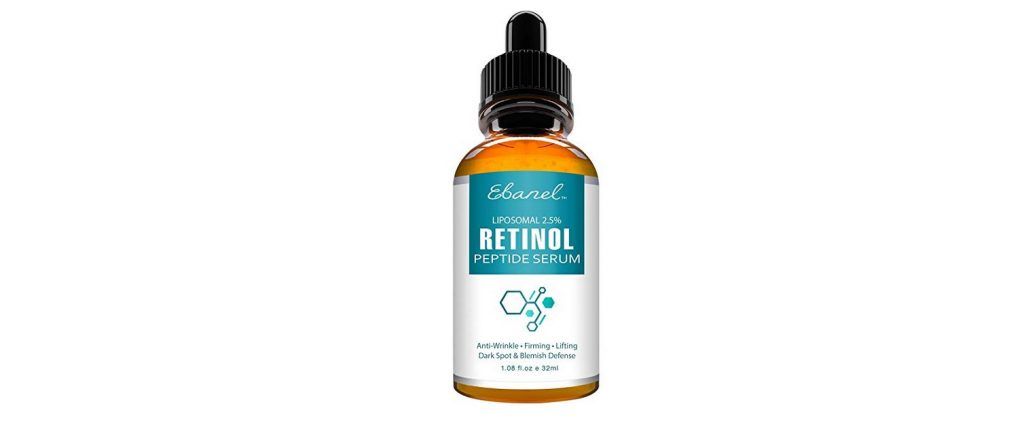 People who've reached middle age or who are currently in their 50s, 60s, and beyond are typically dealing with the unavoidable effects of skin aging.
Wrinkles, fine lines, sunspots and a loss of facial volume can all be a source of frustration in an attempt to keep your skin looking youthful and healthy.
Ebanel's retinol serum excels in this category because it includes an unrivaled number of potent and effective anti-aging ingredients. Among them are:
Retinol (2.5%)
Hyaluronic acid
Vitamin B5, C, and E
Resveratrol
The serum is also enhanced with collagen peptides, aloe vera, jojoba seed oil, and witch hazel extract.
If you've followed the guide this far you'll probably notice that the retinol concentration in Ebanel's serum is well above average. We've noted some of this vitamin's drawbacks (including sun sensitivity) but it's worth reiterating just how strong an ally retinol (AKA vitamin A) can be in fighting signs of aging.
Retinol remains the gold standard in anti-aging cosmetics due to its unique ability to stimulate cellular renewal and enhance collagen production (13, 14).
One unfortunate consequence of aging is a loss of skin moisture. Hyaluronic acid has water-binding properties and enhances skin moisture by increasing the retention of water molecules (4).
Ebanel's serum combines vitamin C and vitamin E, which, as we noted earlier, work synergistically to reduce oxidative damage to the skin (2).
Finally, resveratrol is an interesting addition not often seen in anti-aging products. Resveratrol is a polyphenol abundant in grapes and other berries. It possesses both antioxidant and anti-inflammatory properties. It both stimulates an increase in collagen and actively slows down the photoaging of the skin (15).
PROS:
Excellent value for money
The unmatched variety of science-backed ingredients
Uses clinical-strength retinol (2.5%)
CONS:
High strength retinol can cause irritation and sun sensitivity in some people
This is the best way to apply the serum:
Wash and dry the face before applying a thin layer of the serum
Gradually build up to daily use if tolerated
Allow the serum to dry before applying makeup or moisturizer
It is advisable to wear sunscreen when using retinol-based products
back to menu ↑
Best For Younger Skin: Olay Regenerist Microsculpting Cream With Sunscreen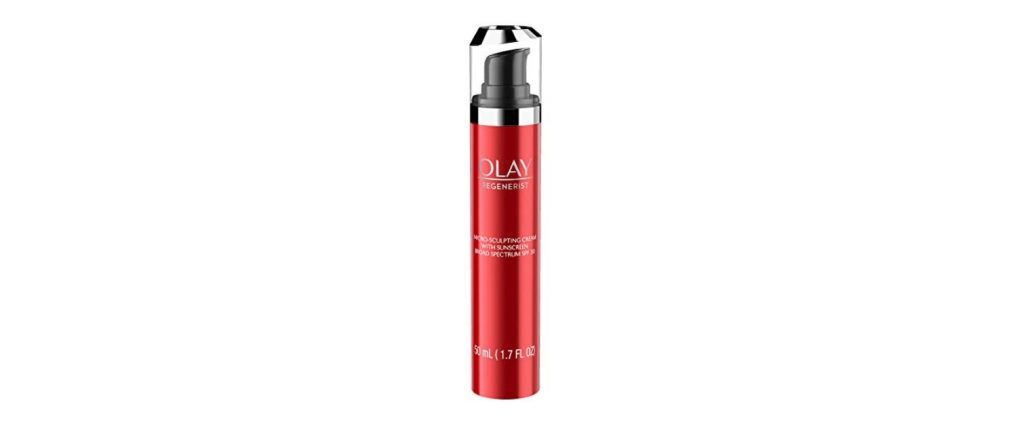 Younger women often take a passive approach to anti-aging skincare. However, people in their 20s, 30s, or even 40s have the ideal opportunity to take steps to ensure their skin stays healthy and beautiful for longer.
On the other hand, older individuals don't always have the luxury of taking preventative measures against premature skin aging.
It's important to prioritize a healthy lifestyle at this age before seeking out any anti-aging serum. Diligent use of sunscreen, a healthy diet, and the avoidance of smoking and excess alcohol can pay dividends long into the future.
For this reason, we recommend Olay Regenerist cream to younger people because it boasts a combination of sunscreen and anti-aging ingredients.
Specifically, it offers SPF30 protection alongside a number of ingredients that work to maintain facial volume and skin moisture.
The cream is enriched with niacinamide, which improves skin texture and has strong anti-inflammatory and moisturizing properties. It also includes pro-vitamin B5 and an amino-peptide complex.
PROS:
SPF30 sunscreen (anti-aging starts and ends with sun protection!)
Long-lasting moisturizer
Anti-inflammatory and anti-aging properties
CONS:
Lacks the strength of ingredients such as retinol and hyaluronic acid
This is the best way to apply the serum:
Remember to apply your cleanser and toner before using this product
Apply to face and neck prior to sun exposure
For best results, top up during the day
back to menu ↑
Best Overall: Tree of Life's 3-Pack for Face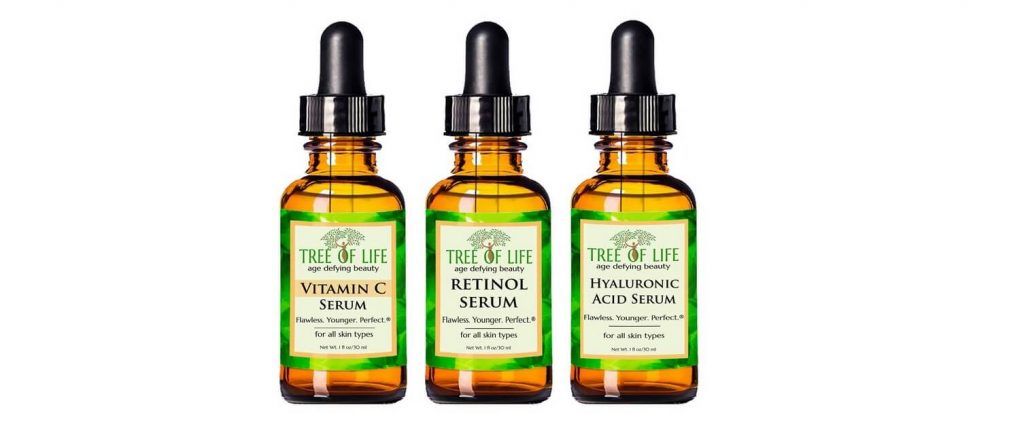 Although there is very little to separate our top choices in each category we consider Tree of Life's serum set the best overall. This is for several reasons:
Excellent value for money
Science-based formulation
Strong emphasis on customer service and ethics
High customer satisfaction
First and foremost, when you purchase an anti-aging product you expect something that works. Vitamin C, retinol, and hyaluronic acid are three of the most studied and consistently effective ingredients around. Their combination tackles the signs of aging skin on multiple fronts.
Tree of Life doesn't try to dazzle consumers with exaggerated marketing. They keep things simple and grounded in scientific evidence.
Their low-key marketing also allows them to provide great value for money. Indeed, Tree of Life promises to reply to emails within 24 hours or else supply a free product of your choice as an apology.
This dedication to customer satisfaction goes above and beyond their rivals and is another important factor in our decision.
back to menu ↑
What Exactly Is An Anti-Aging Serum?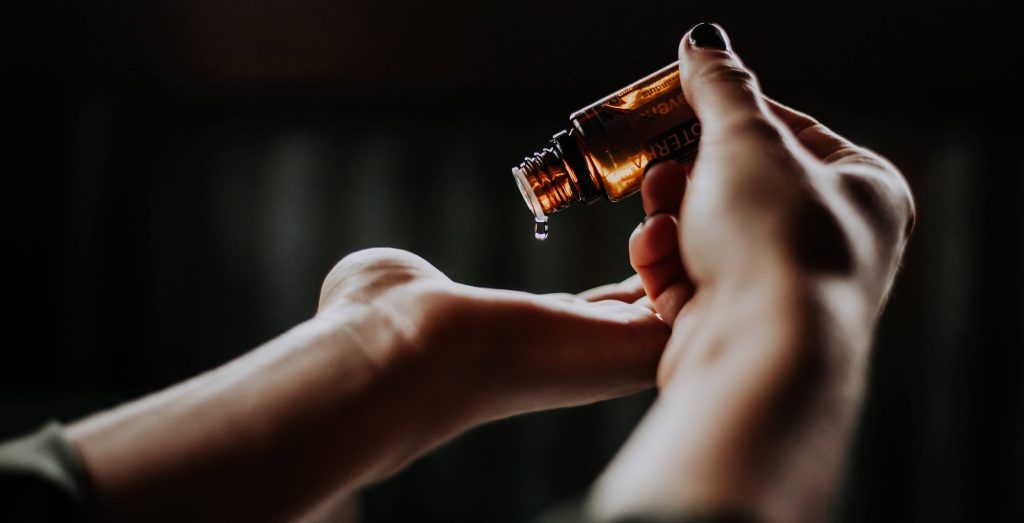 The meaning of the word serum varies according to the context in which it is used. In the cosmetics industry, a serum is generally considered to be a lightweight, water-based product with concentrated active ingredients targeting a particular skincare goal.
Therefore, an anti-aging serum is typically a product used in small quantities to deliver ingredients that tackle signs of aging including wrinkles, fine lines, and hyper-pigmentation.
They are usually applied after a cleanser and toner but before a moisturizer. Most manufacturers recommend waiting until the serum is fully absorbed before adding your regular moisturizing product.
Whether or not a serum is used in the morning or evening depends largely on the formulation. Products that offer protection from the sun are usually used during the day. However, retinol-based serums are generally used before bed.
Many anti-aging serums follow an evidence-based approach and seek to include ingredients with proven benefits. These include:
Alpha-hydroxy acids (16)

Collagen peptides (8)
Sunscreen
Unfortunately, not all cosmetics companies adhere to high standards of science. Consumers should be wary of products that offer miraculous results but do little to address the underlying causes of skin aging.
For instance, products like plexaderm that are advertised heavily on television are designed only to temporarily enhance skin appearance. Although wildly expensive, they do not offer the nourishing ingredients that sustainably improve skin texture and smoothness.
Bottom Line: There is no widely accepted definition for anti-aging serums. However, they are generally regarded to be lightweight, water-based products. When buying a serum, check the ingredients carefully to ensure they have proven efficacy.
back to menu ↑
How Well Do Anti-Aging Serums Work?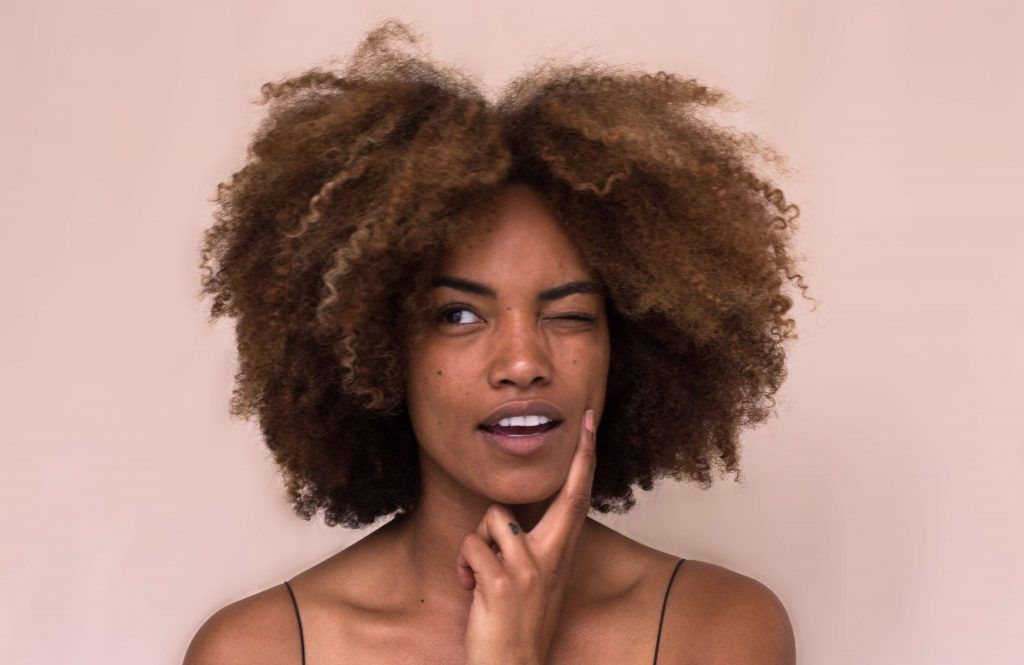 As we saw earlier, unscrupulous marketing practices can leave consumers confused in their search for an effective anti-aging product.
This is why it's so important to look beyond clever branding when choosing which serum to incorporate into your skincare regimen.
Instead, focus on the label of the product in question and take time to learn about the scientific research underlying each ingredient.
Even when you begin using an anti-aging serum it's critical to remember that skincare is about so much more than cosmetic products. You should view any anti-aging product as just one pillar in a multifaceted approach to keeping your skin healthy.
Here are some particularly important tips:
Choose an effective anti-aging product and use consistently and as directed
Start taking skin aging seriously at a young age
Apply sunscreen in the morning and throughout the day
Prioritize getting sufficient high-quality sleep
Eat a healthy, balanced diet
Where possible, avoid the use of corticosteroids, which can cause skin thinning
Also, try to avoid medications that can cause heightened photosensitivity
Don't smoke and keep alcohol consumption in moderation
Bottom Line: Some anti-aging serums can offer an extra boost in your efforts to keep your skin youthful and healthy. However, using a serum isn't an excuse to ignore other healthy lifestyle habits that protect and nourish the skin.
back to menu ↑
What About Side Effects?
Certain common ingredients in cosmetics can cause side effects. Hypoallergenic and sensitive skin formulations can reduce the risk of irritation but it is still important to take preventative measures.
Peeling agents like salicylic acid can cause localized dryness and flaking. Products containing these ingredients should be used in moderation and application should always be followed by a moisturizer.
Take time to learn about potential endocrine disruptors in cosmetic products and assess the label of every product carefully. These chemicals can interfere with the endocrine system and cause adverse effects.
Effective ingredients like retinol do have some drawbacks. Although many dermatologists consider retinol to be the gold-standard of anti-aging skincare, it is also known to cause skin irritation and photosensitivity.
The increased risk of sun damage following retinol use can be mitigated in part through the consistent use of sunscreen and by only using the ingredient at night. Also, consider building up retinol use gradually from a few times a week up to daily use if tolerated.
For personalized skincare advice it is always worthwhile to consult a dermatologist. This will help you devise a skincare regimen that meets your individual needs.
Finally, remember to follow the manufacturer's directions when using any anti-aging serum. Typically, you will enjoy the best results by applying cleanser and toner before the serum, followed by a moisturizer afterward.
Bottom Line: Side effects from over-the-counter skincare products are not uncommon. Carefully inspect the label before purchasing any product and follow the manufacturer's directions. Hypoallergenic products are useful in some situations.
back to menu ↑
Honorable Mentions
In total, we reviewed 11 anti-aging serums. Those below didn't quite reach our list of top picks but they still warrant discussing in brief.
M3 Naturals Professional Facial Serum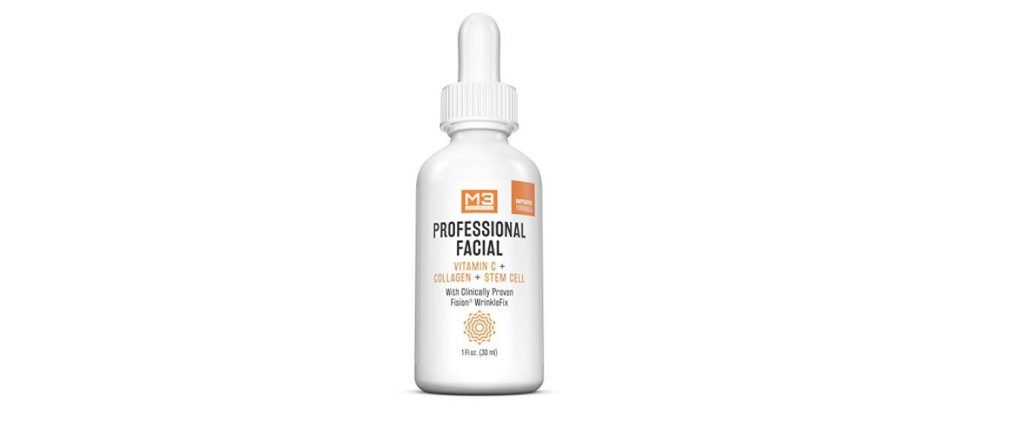 M3 Naturals is another understated skincare and beauty brand that doesn't spend vast fortunes on marketing. Instead, they focus on the only thing that really matters: quality ingredients and excellent customer service.
The M3 professional facial serum is an excellent anti-aging choice for people concerned about the effects that harsh products can have on sensitive skin.
This product by M3 avoids retinol and blends gentler ingredients to protect from signs of aging while also hydrating and soothing sensitive skin. Here are the key active components:
Vitamin C
Collagen
Plant stem cells
Hyaluronic acid
Research into the benefits of plant stem cells in cosmetics is inconclusive. However, this is an active area of investigation and results from some studies are promising (17).
Nonetheless, this serum remains a strong choice for people searching for an effective anti-aging product that doesn't rely on retinol.
PROS:
Gentle, moisturizing formula
Offers some protection from UVA/B rays
Supports collagen production and tackles hyper-pigmentation
CONS:
Lacks the effective anti-aging ingredient retinol
Namskara Retinol Moisturizer Cream

Namskara's retinol-based cream is brimming with anti-aging ingredients and also offers good value for money.
In addition to staples of retinol, hyaluronic acid, and vitamin E, this cream offers novel ingredients including green tea. Applied topically, green tea possesses antioxidant and anti-inflammatory properties.
Namskara has also included moisturizing and soothing ingredients like jojoba oil, shea butter, and aloe vera.
Whatsmore, there is a strong emphasis on organic sourcing and a cruelty-free approach.
PROS:
50ml serum offers good value for money
Strong concentration of retinol for anti-aging
Packed with soothing, moisturizing ingredients and antioxidants
CONS:
Lacks vitamin C, which soothes the skin and supports collagen synthesis
Strong retinol can cause irritation in some individuals
Dermedicine
High Potency (3% Retinol) w/ Vitamin C


Dermedicine's blend of vitamin C and retinol is easily one of the most potent anti-aging serums available today. Its 3% retinol concentration is unrivaled among over-the-counter serums.
This product is a good choice for people seeking high-strength retinol in combination with the anti-inflammatory and collagen-boosting properties of vitamin C.
However, its high strength makes it all the more important to gradually build up use over time. In addition, it's wise to use the product at night only and to use sunscreen during the day.
PROS:
Unrivaled retinol potency
Combined with the benefits of vitamin C
CONS:
High-strength retinol can cause skin irritation and sun sensitivity
OZNaturals Vitamin C and AHA Serum

We are fond of the OZNaturals facial serum and its relatively unique blend of ingredients.
Unlike many manufacturers, OZNaturals incorporate the anti-inflammatory, photoprotective, and exfoliating benefits of alpha-hydroxy acids (18).
This hypoallergenic product also combines vitamins C & E with hyaluronic acid for maximum impact.
PROS:
Glycolic acid (AHA) offers several benefits that other anti-aging serums don't
Vitamins C & E offer synergistic benefits
Hyaluronic acid has strong moisturizing properties
InstaSkincare
Retinol Serum w/ Hyaluronic Acid

InstaSkincare's combined retinol and hyaluronic acid serum reaches our list of honorable mentions because it offers unbeatable value for money.
This 60ml serum is double the size of many rivals and still comes in at just $11.99. Further enriched with vitamin E and aloe vera, this product offers effective ingredients at an affordable price.
PROS:
Excellent value for money
Effective retinol and hyaluronic acid blend
Further enriched with aloe vera and vitamin E