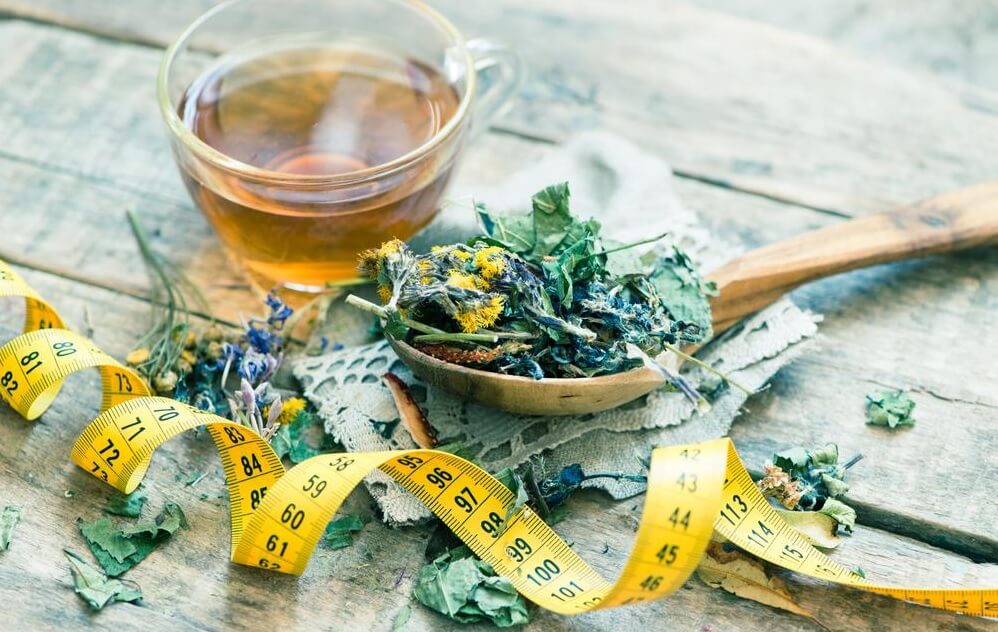 We have all heard the hype surrounding detox tea. Purported weight loss is one of the key reasons why many of us have taken the plunge into trying one or more of these products. But which is the best? And do they really work at all? We answer these questions and more in this detailed review and buyer's guide!
You'll find the category winners profiled first with reviews of all the additional detox teas we reviewed (21 in total!) lower in this article.
Our team goes to great lengths to unearth the best products to make it easy for you to shop with confidence. A small percentage of the links in our Buyer's Guides are Amazon.com "affiliate" links. This means we receive a small commission on qualifying purchases at no extra cost to you. This is nothing scary — it simply means our amazing research team can be fairly compensated for their extraordinary work. Read more about our editorial standards.
Best Detox Teas
Best Value Choice: ZeroTea 14 Day Detox Tea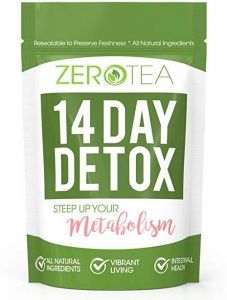 ZeroTea's 14 Day Detox is a good entry point for anyone searching for a 'teatox' cleanse without an excessively high price tag.
Eight natural ingredients are combined in 14 Day Detox tea bags: organic rooibos, green tea, cloves, orange peel, cinnamon, nutmeg, cornflower, and red peppercorn. Although detox tea recipes are designed with digestive health and weight loss in mind, this product also has a pleasant and refreshing flavor.
14 Day Detox is intended to stimulate your metabolism, gently boost energy levels, and provide a plethora of antioxidants at the same time. It also helps good bacteria in the gut to thrive, thereby reducing bloating. The ingredients in the tea also possess anti-inflammatory properties, notably D-Limonene, a compound found naturally in citrus peel.
We've also chosen ZeroTea's detox tea as our top pick because it doesn't include aggressive laxative ingredients. This makes it more suitable for casual consumers and those who don't wish to spend time rushing to the bathroom.
14 Day Detox tea bags do contain caffeine. Research has shown that a couple of cups of caffeinated tea can boost metabolism. In fact, it can significantly increase the number of calories burned during a short period of exercise.
PROS:
Comes in handy premium-grade tea bags.
Reasonably priced compared to alternatives.
Pleasant aroma and flavor.
Gentle formula without the excessive laxative effect.
CONS:
Gave me a few digestive side effects, including acid reflux.
Modest weight loss results after 14 days of use.
This is the best way to prepare the tea:
Upon waking, drink one 8oz glass of water.
Don't add boiling water to your 14 Day Detox tea bags. Instead, bring water to a gentle simmer.
Steep for at least 3-5 minutes and consume.
back to menu ↑
Best For Weight Loss: Vida Tea 14 Day Teatox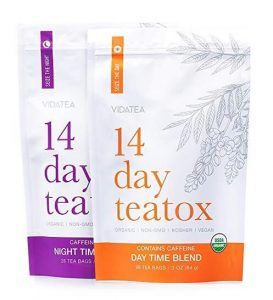 This organic detox tea follows a common formula by combining a day time and night time blend for optimal weight loss results. With beach season rapidly approaching many of us are grappling with ways to reduce belly fat and bloating.
While detox tea alone won't be enough to shed the pounds, it can be a useful help in getting over the line. Vida Tea's day time blend includes weight loss promoting ingredients like yerba mate, pu-erh leaf, and senna leaf. Oolong tea is also present and the flavor combines notes of orange, mint, and cinnamon.
By contrast, the night time blend is soothing and caffeine-free. Sleep-promoting plant ingredients like chamomile are included, along with a total of ten other components. These include licorice root, ginger root, and strawberry leaf. The night time tea bags have a pleasing aroma and taste of citrus, berries, vanilla, and cinnamon.
Vida Tea's formula is one of the most impressive of any detox tea in the market. Ingredients like senna leaf ease constipation and tackle bloating. At the same time, yerba mate, oolong tea, and pu-erh leaf combine to boost metabolism and reduce belly fat.
We have selected the 14 Day Teatox as our number one detox tea for weight loss because it eases constipation and includes several metabolism boosting and appetite suppressant ingredients. The price is also lower than that of many rival products with similar or inferior ingredients.
PROS:
Noticeable reduction in appetite.
Boost in day time energy.
Night time blend prolongs effects and helps with sleep.
Enjoyable flavor and aroma.
CONS:
Relatively high caffeine content may make the product unsuitable for some.
Natural laxatives like senna leaf can leave you running to the bathroom more often than usual.
This is the best way to prepare the tea:
Can be drunk hot or cold.
Add 1 day time blend tea bag to nearly boiling water in the morning and steep for 3-5 minutes.
Do the same in the evening but using one night time tea bag.
back to menu ↑
Best For Cleanses: Gaia Herbs Cleanse & Detox Herbal Tea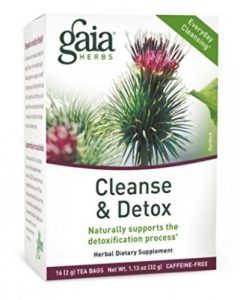 An interesting aspect of detox teas is that people use them for a multitude of different reasons. While weight loss is a popular goal, another common use for detox teas is to promote general health and wellbeing.
For instance, some people turn to detox teas to deal with digestive issues. Others use them to try to support liver health after excessive alcohol use. While there is no herbal tea in the world that can miraculously offset harm to your body, tea can certainly offer a pick me up after a long night!
Gaia Herbs is a detox tea purportedly designed around hectic lifestyles. It's a caffeine-free herbal option and is therefore very different to many teas we've reviewed in this article.
Ingredients include orthosiphon stamineus, a leaf that possesses natural fat burning properties. Also in the blend is rooibos tea — an anti-oxidant packed, caffeine-free alternative to green tea. Licorice root meanwhile is a source of flavonoids and imparts a distinctive flavor to the Gaia cleanse tea.
Among the other ingredients in each tea bag are aloe vera, artichoke leaf, and a number of essential oils.
We've chosen Gaia's detox tea as our top pick for people starting on cleanses because it is packed with natural purifying ingredients and offers a soothing caffeine-free alternative to mainstream weight loss teas.
PROS:
Packed with antioxidants and flavonoids.
Affordable price.
Gentle caffeine-free effect.
Suitable for cleanses.
CONS:
In some individuals, licorice may decrease testosterone. This side effect is undesirable for some men.
The distinctive flavor takes a little while to adapt to.
This is the best way to prepare the tea:
Pour freshly boiled water over one tea bag.
Steep for 10 minutes for maximum extraction of antioxidants and drink.
Continue use for up to 10 days.
back to menu ↑
Best For Digestive Health: Total Tea Gentle Detox Tea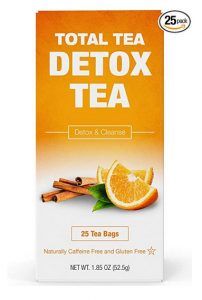 As the name suggests, Total Tea's detox tea is another calming, caffeine-free option suitable for drinking at any time of the day. The inclusion of chamomile adds a pleasant anxiety-reducing element of the tea. In addition, the abundant bioflavonoid content of chamomile has been shown to reduce bodily inflammation.
Where this detox tea really shines is in its multipronged approach to supporting healthy digestion. Gynostemma, papaya, peppermint, hibiscus, ginger, senna, and numerous other ingredients leave no stone unturned. Using the tea for several days I noticed considerable improvements in stomach comfort and a reduction in constipation.
We have included Total Tea's gentle detox tea as our top option for people seeking relief from stomach discomfort, particularly after periods of less than healthy eating and living. We're all familiar with the havoc unhealthy habits can wreak on our digestive systems. The anti-inflammatory ingredients of this tea, including the natural laxative senna, help to eliminate waste from the body without discomfort.
PROS:
Great for cleanses and improved digestion.
One of the best tasting teas we've tried.
Relieves gas and reduces bloat.
CONS:
Unlike some teas, Total Tea's gentle detox doesn't appear to suppress appetite or help with weight loss.
This is the best way to prepare the tea:
Each evening, pour hot water over one tea bag.
Steep for 8-10 minutes and consume.
Continue use for approximately two weeks then use as needed.
back to menu ↑
Best For Skin Health:  Yogi Tea Soothing Rose Hibiscus Skin Detox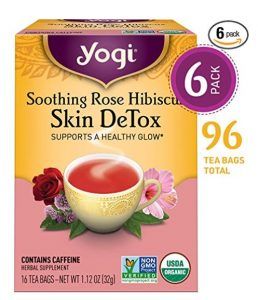 Although periods of unhealthy living take their toll on our bodies in many ways, dull and dry skin is often the most visible outer sign of bad habits. A healthy skin glow is sought after by millions for its ability to naturally boost beauty.
Research has linked gut health to the appearance of our skin and detox teas have become a popular avenue for improving skin from the inside out.
The formula of Yogi's skin detox tea combines antioxidant-rich green tea with rose petal, hibiscus, and numerous other organically sourced herbs. The tea contains caffeine albeit in a very low quantity of approximately 12mg per cup (around 10% of the amount found in an average cup of coffee).
The flavor is fruity and refreshing. Yogi formulated their skin detox tea based on principles of Ayurveda. I approached this tea with more than a hint of skepticism because of its reliance on this form of herbal alternative medicine.
Nevertheless, after around one week of use, I began to notice the return of a healthier skin tone. We have selected Yogi's skin detox tea as our top choice for people seeking tea for improved skin health for its careful use of organic ingredients and affordable price.
PROS:
Noticeable improvements in skin tone.
Pleasant fruity taste.
Affordable price.
CONS:
Improvements in skin health seem to vary somewhat from one person to the next.
This is the best way to prepare the tea:
Pour hot water over one tea bag (or two for a stronger flavor).
Steep for 5 minutes and consume.
For best results, drink 3-4 cups daily.
back to menu ↑
Best For Re-Energizing: Total Tea Detox Energy Tea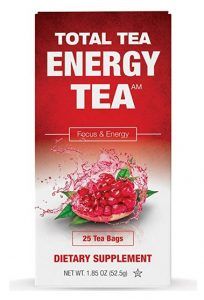 Feeling flat and lifeless is a common complaint with many possible causes. Unhealthy living, poor sleep, and stress are just a few contributing factors.
Total Tea's detox energy tea is a great way to start the day without resorting to the harshness of energy drinks or strong coffee. The ingredients in this blend have been selected to maximize antioxidant content and gently boost energy and focus.
I tried this tea for the first time while beginning a keto diet and the tea's mild appetite suppressing action was an added bonus. Cutting out carbs is known to lead to cravings and sluggishness at first so a natural alternative to sugar for energy was very welcome.
Green tea and guayusa together offer a double-pronged source of caffeine, theanine, and antioxidants. Caffeine and theanine act synergistically to improve attention and focus. Other ingredients like eleuthero root help to lower stress and boost energy.
PROS:
Significant energy boost and a good substitute for morning coffee.
Appetite suppressant effects help with dieting.
Improves focus and attention.
CONS:
Suitable for morning use only.
This is the best way to prepare the tea:
Place one tea bag in hot water.
Steep for 4-6 minutes with occasional stirring and consume.
For best results, drink 1-3 cups daily.
back to menu ↑
What Exactly is Detox Tea?
We've come this far but you might still be wondering: what exactly is detox tea and what sets it apart from "normal" tea?
In reality, the answer is that there is no strict definition of what constitutes a detox tea. In fact, the word "detox" is primarily used as a marketing device in promoting products for all sorts of health purposes. To understand the differences between tea, herbal tea, and detox tea it's best to start from the beginning.
Tea
Tea is a drink that has been consumed by humans for thousands of years. Originating in modern day China, tea is produced by brewing the processed leaves of the Camellia sinensis shrub in hot water. Popular teas like black, green, and oolong varieties are all sourced from this shrub. The difference between them stems from the way in which the leaves are cured and processed.
Although the chemical composition of teas from Camellia sinensis vary based on the way the leaves are processed, each cup contains the stimulant caffeine, the calming amino acid theanine, and a host of antioxidants, among other components.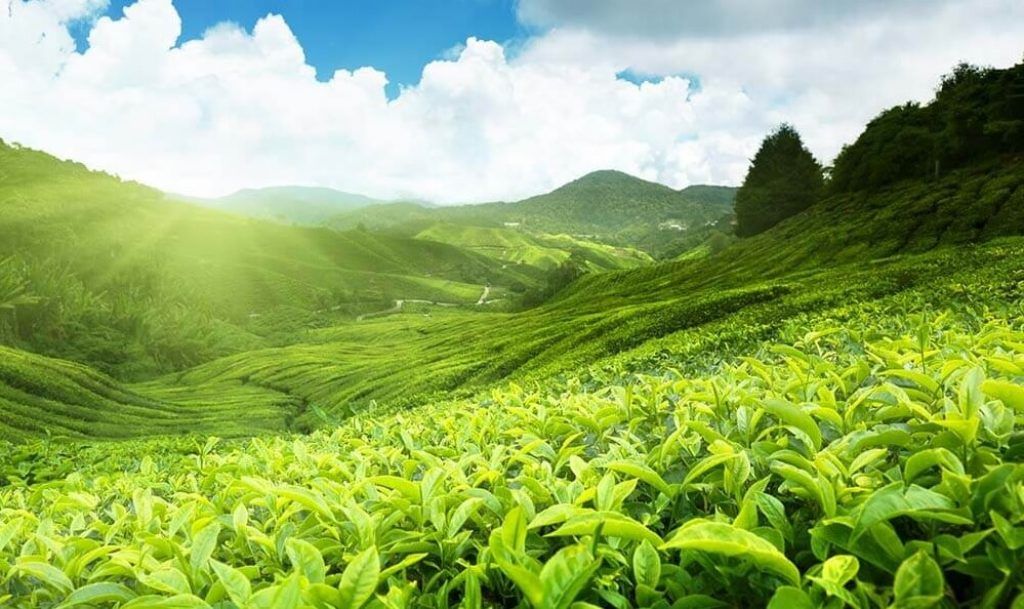 Herbal Tea
Herbal teas, on the other hand, have no standardized formula. They are generally created by blending some mixture of plant matter, herbs, and/or spices and are then brewed in water, much the same as conventional tea.
These teas are often used in complementary medicine and are designed for a wide range of purposes. Some makers follow an evidence-based approach to selecting ingredients but a considerable number of herbal teas on the market are ineffective and should be treated with caution.
Detox Tea
The term "detox" is simply a contraction of the word detoxification. By definition, this means a process in which toxic substances are removed. Detox diets, supplements, and teas have all come to prominence in recent years but many are underpinned by highly questionable science.
Some of these drinks do contain actual tea, that is, the leaves of Camellia sinensis. Generally speaking, green tea is the favored choice. However, many contain herbs alone, including rooibos (a popular caffeine-free substitute).
Much like herbal tea, detox tea is simply a blend of herbs and/or plant matter marketed toward a particular health goal. The marketing for these products often emphasizes overcoming periods of unhealthy living.
Social media influencers have been at the forefront of detox tea promotion, and while most of the products they push are safe to consume, the price tag is often highly inflated in comparison to the cost of what actually goes into the tea bag.
For this reason, most of our top selections above have been chosen for their affordability and adherence to an at least somewhat scientific approach.
Today, detox teas are marketed for a huge variety of purposes — from improved liver function to weight loss and better skin appearance to reduced bloating. As a result, the ingredients from one product to another vary a great deal. Some people swear by detox tea while others disparage them as next to useless.
Our advice is to tread carefully and not waste too much money upfront before you're sure you've found a product that works well for you. Where possible, buy your tea from reputable companies who source ingredients organically and responsibly.
back to menu ↑
How Well Does Detox Tea Work?
Although detox tea alone isn't a weight loss elixir, it can at times be a useful ally as you strive to achieve your weight loss goals. Here are a few reasons why:
According to Healthline, green tea can boost your metabolic rate and help the body utilize its fat tissue stores as energy.
Tea has many other health benefits besides weight loss, including boosting your immune system and digestive system.
Combining detox tea with an intermittent fasting regimen can produce rapid results, particularly when the tea is used to boost your energy levels throughout the day.
It's important to be wary of generic claims of a tea's ability to "flush" the body of toxins because there is no evidence that any tea is capable of such a feat. Natural laxatives like senna often give the appearance of rapid weight loss by reducing constipation but this shouldn't be taken as proof that the tea is causing sustainable body fat reduction.
Some teas do have energy boosting and appetite suppressing effects. However, drinking plain green tea is likely to have much the same effect. Nevertheless, some detox teas can lead to noticeable improvements in stomach comfort and constipation, depending on the contents.
back to menu ↑
What About Side Effects?
With detox tea, often the most noticeable side effect is the one that occurs on the size of your wallet. While overpriced, even teas popular on social media do tend to be safe when used as directed.
Exercise caution when starting a new detox tea by beginning slowly. It is also a good idea to consult your doctor first. Detox teas aimed at solving digestive issues may lead to stomach cramping, gas, or diarrhea. This should pass after stopping use.
Many detox teas contain caffeine because of its energizing effect. The caffeine content of these teas is however usually lower than what you would find in a standard cup of coffee. If you have ever had a bad reaction to caffeine then check the label carefully before consuming.
back to menu ↑
Honorable Mentions
In total, we reviewed 21 detox teas. Those below didn't quite reach our list of top picks but they're worth looking at briefly.
Yogi Detox Healthy Cleansing Formula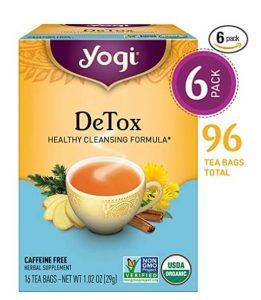 Yogi's healthy cleansing formula is sourced from all organic ingredients and comes in handy tea bags. It is a caffeine-free option with a recipe including ginger, cinnamon, long pepper, and cardamom.
PROS:
Very affordable price.
Distinctive spicy taste.
Over a dozen ingredients.
CONS:
Unlikely to lead to weight loss.
Traditional Medicinals EveryDay Detox Tea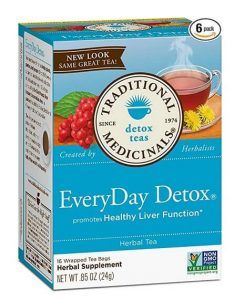 This herbal tea has been designed to support healthy liver function. To that end, ingredients include Schisandra fruit, which has a long history of use for its apparent protective effect on the liver. Traditional Medicinals EveryDay Detox is marketed as caffeine-free although it does include very small quantities of caffeine due to the presence of kukicha twig.
PROS:
All ingredients are certified organic.
Very affordable.
Ingredients tailored specifically toward liver health.
CONS:
The tea has a very unique flavor that won't be to everyone's taste.
The herbs included still lack strong scientific evidence of effectiveness, although research is promising.
Playa Fit Teas Skinny Detox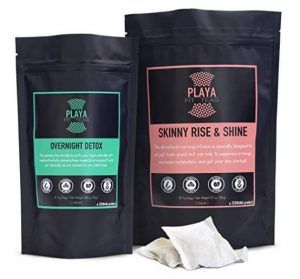 Another two-part (day and night) detox tea, Playa Fit Teas are manufactured in Chile and allegedly help reduce belly fat. This tea is definitely not one you could describe as gentle. That's because Playa's rise and shine tea (the day time component) is designed to give you an energizing and appetite suppressing boost to start your day.
Yerba mate, which is traditionally cultivated and consumed in South America, provides noticeable stimulation. The oolong tea present in the formula also provides a moderate dose of caffeine and a refreshing flavor. The overnight detox tea bags contain senna, which is an effective laxative that can ease constipation and bloat.
PROS:
Morning tea bags are noticeably stimulating and can help with dieting.
Day and night approach prolongs the effects.
Also seems to improve mental focus.
CONS:
This tea is not a good choice for those seeking a gentle, caffeine-free option.
Everlong 28 Day Ultimate Teatox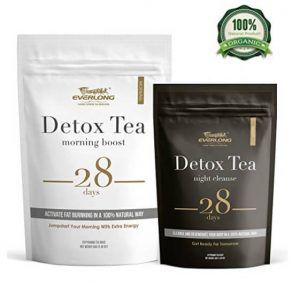 Everlong's detox tea bags also come in two separate formulations: the "morning boost" and the "night cleanse". The green and oolong tea content of the morning tea bags do appear to offer a subtle lift in energy. However, the ingredient Garcinia Cambogia appears to be ineffective for weight loss, despite being touted as a fat burner.
The evening tea bags contain the natural laxative senna which may help reduce constipation.
PROS:
Pleasant fruity flavor.
Subtle boost in energy.
May ease constipation.
CONS:
Some ingredients intended to support weight loss appear to be ineffective.
Tease Tea 30 Day Triple Teatox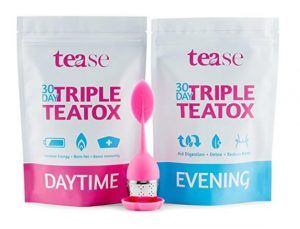 Unlike the majority of teas featured in this article, Tease Tea's product comes in loose leaf form with a handy infuser included. The ingredient list is also unusually short. The daytime tea is a blend of yerba mate and lemongrass, while the evening tea contains decaffeinated green tea, senna, ginger, lemongrass, and rose petals.
Nevertheless, yerba mate does offer an uplifting boost in daytime energy. Antioxidant-rich green tea and Senna also seem to improve overnight digestion.
PROS:
Enjoyable floral and fruity aroma.
Some improvement in energy levels.
Senna in evening tea eases constipation.
CONS:
Expensive choice considering the relatively short ingredient list.
Fit Tea 14 Day Detox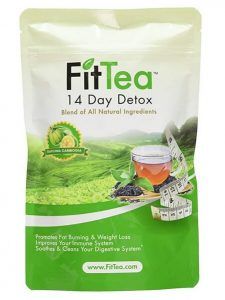 Fit Tea is one of the most recognizable brands around in the detox tea space. This product comes in loose leaf form, which means you'll need your own infuser at home. This is a caffeinated beverage containing both green, matcha, and oolong teas and is, therefore, best to use in the morning.
Although the manufacturer boldly states that the tea can lower hunger for 4-6 hours, there doesn't seem to be any ingredient in the formula that justifies such a claim. This makes the $20 price tag for 14 servings seem excessive, given that everyday garden variety tea bags come at a fraction of the cost.
PROS:
Pleasant tasting notes of pomegranate and honey.
One of few detox teas to use matcha green tea — a premium Japanese variety.
CONS:
Expensive given the limited quantity in each bag.
You'll need to brew this tea with your own infuser.
Claims of weight loss and reduced appetite seem exaggerated given the actual contents of the tea.
Teami 30 Day Detox Tea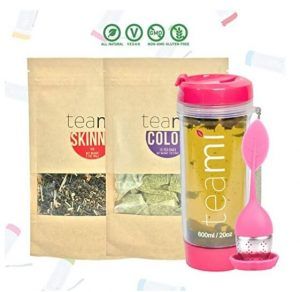 Teami's 30-day detox is a two-part herbal tea that comes with a handy portable tumbler and infuser. The morning blend is a loose leaf product brewed using the strainer and the evening "colon cleanse" component comes in tea bags supposedly intended for use every other night.
The "skinny" morning tea contains oolong and yerba mate, both of which offer a subtle lift. Meanwhile, the evening tea bags are geared toward improving digestion. Ingredients include the natural laxative senna and the sleep-enhancing valerian root. Also present is hawthorn berry extract, an ingredient that has been speculated to reduce fat absorption in the intestines. However, scientific research in these areas is still limited.
PROS:
Clearly, a lot of effort has been put into ingredient selection and a wide range of herbs are present.
Gentle energy boost.
Seems to aid digestion to a moderate degree.
SkinnyFit Detox Tea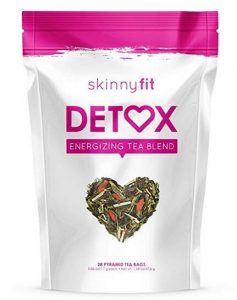 SkinnyFit, like Teami and Fit Tea, has a substantial presence on social media. This is a shrewd marketing strategy that has paid off handsomely for manufacturers, but the hype is not always indicative of quality.
The claims made in support of this detox tea are not all that different to what you'll see elsewhere. However, in defense of the product, SkinnyFit's detox tea is true to its word in being noticeably energizing. It also has a refreshing and fruity flavor.
The premium-grade green teas sencha and matcha are blended with oolong tea and yerba mate for stimulation. You'll also find ingredients like milk thistle, chosen presumably for its reputation as a liver aid.
While we don't balk at the quality of this tea (it has some nice ingredients and an enjoyable flavor), the price is off-putting and there are other good options available at a lower price.
PROS:
Good quality green teas included in the blend.
Provides a significant energy boost.
Pleasant flavor.
CONS:
Suitable for morning use only.
Expensive.
Baetea 14 Day Teatox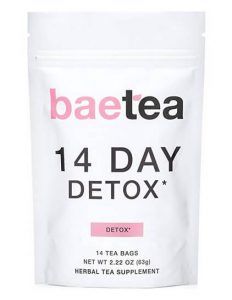 Baetea combines green and oolong tea varieties with a range of other herbs in these naturally caffeinated pyramid tea bags. Ginger and pomegranate add a distinctive natural flavor.
PROS:
Premium oolong and matcha tea varieties.
Wide range of herbs including some purported to aid weight loss.
Interesting flavor.
CONS:
Relatively expensive, though not to the extent of some other detox teas in our list.
Dandelion Root Detox Tea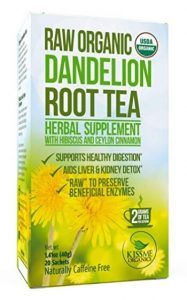 Dandelion has been used for centuries in traditional medicine for its supposed ability to ease gastrointestinal inflammation. This is rounded out with hibiscus petals and cinnamon powder, all of which are organically sourced.
PROS:
Simple, organic ingredients.
Naturally caffeine free.
Affordable price.
CONS:
Unlikely to help with anything other than digestion.
Bikini Body Boost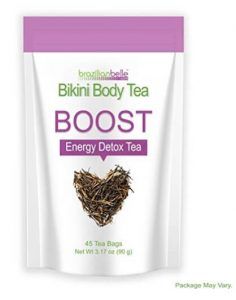 This tea stays true to its "boost" branding by providing a noticeable stimulating effect. This is largely due to the caffeine content of the black, green, and oolong teas all present in each tea bag. Pu-erh tea is also included in the blend.
PROS:
Energizing blend of different varieties of tea.
Provides an alternative to coffee for a caffeine boost.
Convenient way to combine the health benefits of different tea varieties in one bag.
CONS:
Not specifically a herbal or detox tea as the ingredients are mostly leaves of the Camellia sinensis shrub.
Keto Cacao Tea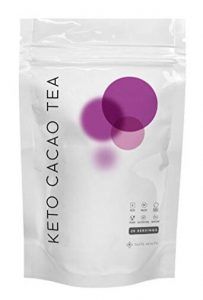 This tea follows a very different approach to the largely similar ingredient labels of many teas on our list. It combines cacao, which may carry some cognitive and cardiovascular benefits, with ginger, cinnamon, cloves, and cardamom. The flavor is reminiscent of Indian chai teas and while we enjoyed it, it may not be to the taste of everyone.
PROS:
A unique approach to formulation.
The key ingredient cacao may confer some health benefits.
CONS:
While this tea may provide some stimulation, it's not necessarily enough to offset cravings for food.
Hey Girl Detox Tea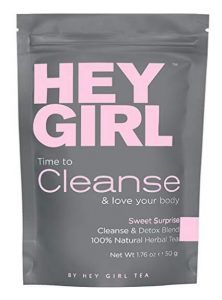 Another popular choice, the team at Hey Girl manage to pack over a dozen different ingredients into each serving of their detox tea. These include senna, dandelion, rose hips, ginger, and milk thistle. The anti-inflammatory black walnut is also present.
PROS:
The formula is clearly designed to cover all bases, from inflammation and digestion to liver function.
Can be enjoyed at any time of day.
Natural fruity flavor.
CONS:
No noticeable energizing effect.
Triple Leaf Detox Tea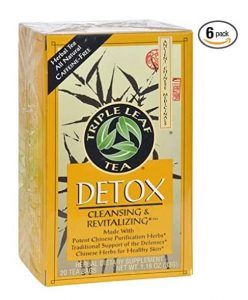 This detox tea combines a hefty list of 20 different herbs used in traditional Chinese medicine. While easily one of the cheapest options on this list, the science underpinning the product is lacking.
PROS:
Very affordable choice with 120 tea bags costing around $20.
Blend of many different herbs in each bag.
CONS:
Very limited information from vendor regarding the source and quality of the ingredients.
Doesn't appear to be organic.
Foraging 14 Day Detox Tea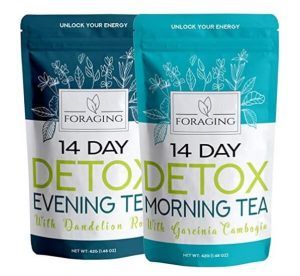 This is a two-part detox tea intended for use for 14 days. One morning tea bag and one evening tea bag are brewed each day for the duration of the detox. The morning brew includes pu-erh leaf, dandelion, sencha green tea, and senna leaf, among other ingredients. The evening blend contains a soothing mix of lavender, chamomile, and orange peel.
PROS:
Gentle energy boost.
Promotes restful sleep.
Strong focus on improving digestion.
CONS:
The choice to include senna in the morning tea bags may leave you running to the bathroom during the day.