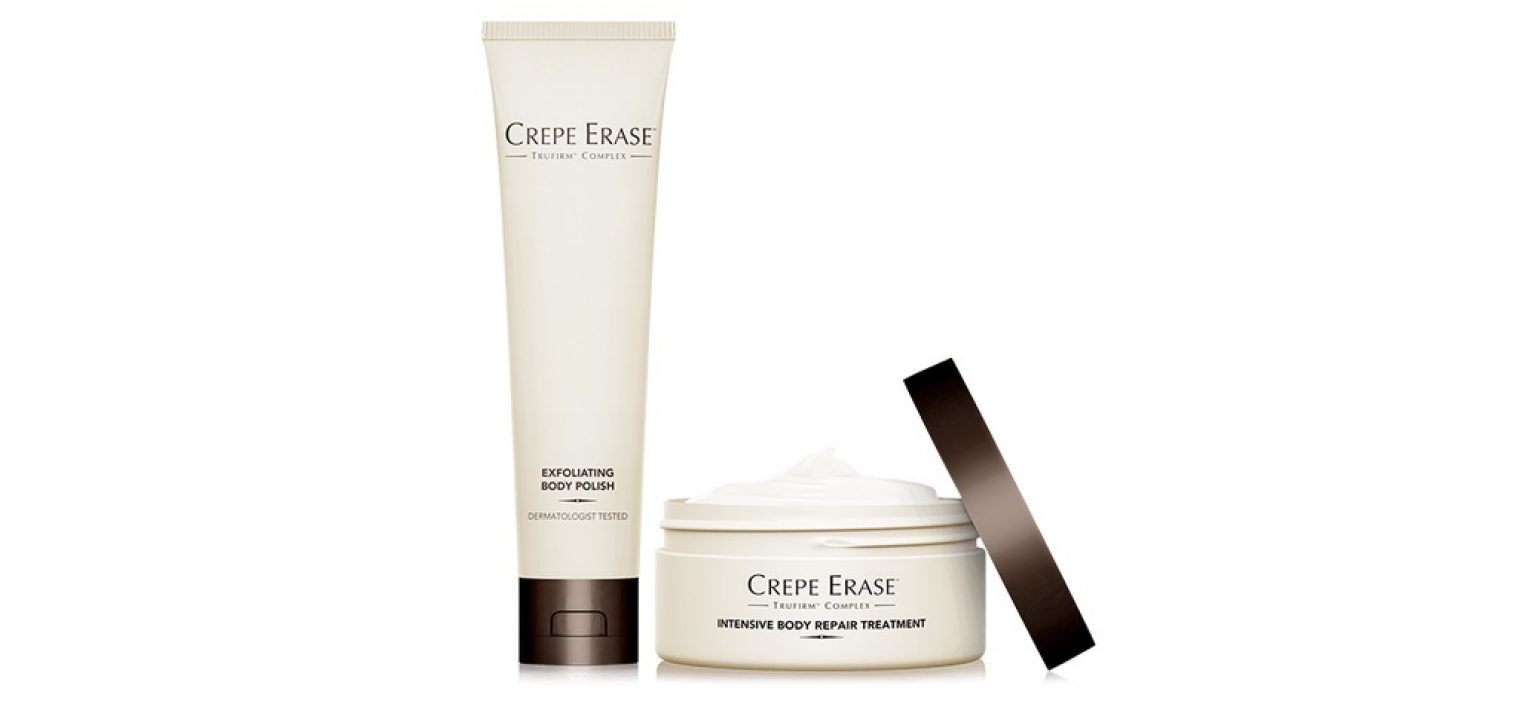 Crepe Erase is an "anti-aging treatment for dry, crépey skin" marketed by a company named "The Body Firm." The product is seen frequently in commercials, many of which feature endorsements from celebrities. However, anti-aging skincare should always be based on evidence.
Therefore, I wrote this Crepe Erase review independently to research the company's marketing claims. We'll take a look at whether the advertised benefits live up to reality and draw some conclusions on whether the product is worth the money or not. Let's get started.
What Is Crepe Erase?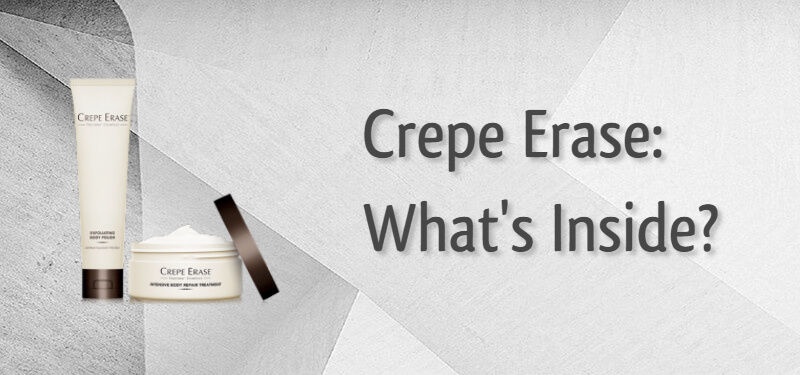 Crepey (or crépey) skin is thin and typically shows signs of fine lines and/or wrinkles. Many anti-aging products target the face exclusively. Crepe Erase, however, seeks to smooth and firm aging skin across the body and neck area. This appeals to women worried that their décolletage and other areas of the body are revealing signs of aging.
It would be a waste of time to simply rehash the same points you've heard in commercials. Instead, we'll look to skincare science to draw some evidence-based conclusions.
The active ingredients in the range of Crepe Erase products are an ideal place to start.
TruFirmTM is a trademarked advertising term for a complex of plant-based ingredients. These "skin-restoring extracts" feature heavily in commercials and are found in most of the Crepe Erase line of products.
Strangely, the company behind the brand provides little information on how exactly TruFirm works. Sourcing a comprehensive list of ingredients at all is a challenge that took me a while to solve. An emphasis on bold promises rather than science is an early red flag. However, the product still deserves a chance to redeem itself.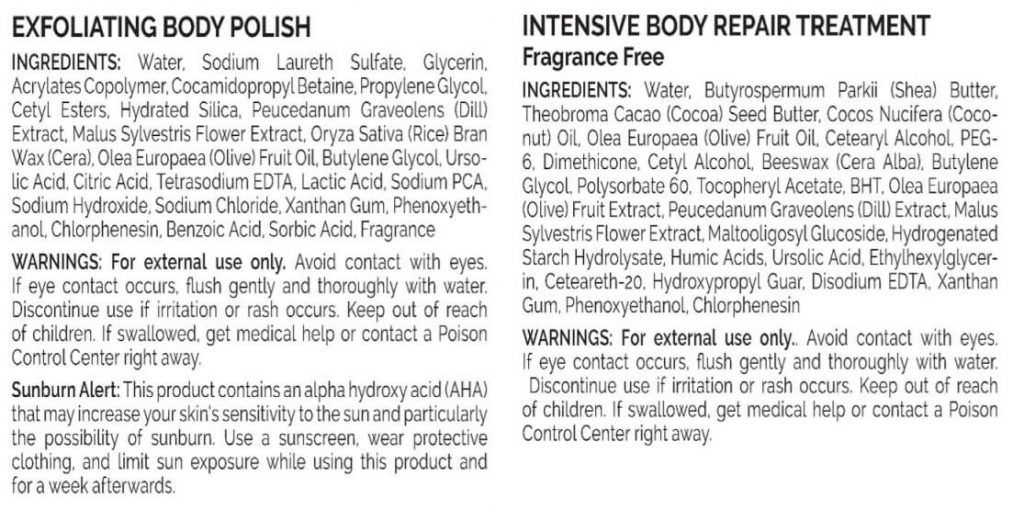 Here are the most significant ingredients found in the "2-Step Essentials System":
Dill extract is sourced from the widely grown herb. It may have some ability to smooth wrinkles and improve skin elasticity. However, evidence in support of these claims is limited. One of the few published studies of dill extract in cosmetics was written by an employee of BASF — which is a wholesale retailer of beauty ingredients (source).
Lactic acid is an alpha-hydroxy acid. It is primarily useful as an exfoliating agent and may enhance skin smoothness while reducing the appearance of wrinkles (source).
Crab apple flower extract is a source of antioxidants and vitamin E. The latter is widely used in cosmetics for its purported ability to improve healing and reduce scar tissue. This may make it useful in the treatment of stretch marks that can appear more frequently in aging skin. However, scientific evidence of benefits remains lacking (source).
Rice bran wax is a by-product of rice processing and is included in the exfoliating body polish. It works by softening and moisturizing the skin (source).
Olive oil may be better known as a culinary ingredient but it is also used in cosmetics for its moisturizing properties. Its antioxidant and fatty acid content may confer benefits to dry skin (source).
Shea butter is a staple ingredient in intensive moisturizers. Predictably, it is one of many ingredients found in Crepe Erase's intensive body repair product. Not only does shea butter help nourish dry skin, but it also has strong anti-inflammatory and antioxidant properties (source).
Cocoa seed butter acts as a moisturizer and is a further source of antioxidants — compounds that may protect the skin from environmental stressors and pollutants (source).
Coconut oil is another ingredient whose high-fat content serves as an effective moisturizer (source).
Beeswax is commonly used in lip balms and intensive moisturizers for its emollient properties.
In essence, the exfoliating treatment works to slough dead skin cells and soften the skin to the touch. The moisturizing step tackles the kind of skin dryness that can make us appear prematurely older.
Vitamin E has been linked with improved healing and the reduction of scar tissue but results are likely to be modest. Far from being a "miracle" product, Crepe Erase is formulated much like many other skincare lines.
Bottom Line: The main active ingredients in Crepe Erase are found in many other, cheaper skincare products. The "2-Step Essentials" are therefore not particularly revolutionary in their approach.
What About The Other Products?
You're probably aware that the Crepe Erase product line includes much more than just the "2-Step Essentials." Other items include the Body Smoothing Pre-Treatment, the Restorative Facial Treatment, and the Refining Facial Scrub, to name but a few.
It is difficult to go far in any review without first looking at Crepe Erase through a business lens. The more one studies the brand, the more apparent it becomes that Crepe Erase represents a clever marketing exercise more than any kind of scientific skincare breakthrough.
"2-Step Essentials" not good enough for you? Why not try the "Advanced 5-Piece System" for good measure? If that's not sufficient, there's always an upgrade to the "Advanced 7-Piece Deluxe System."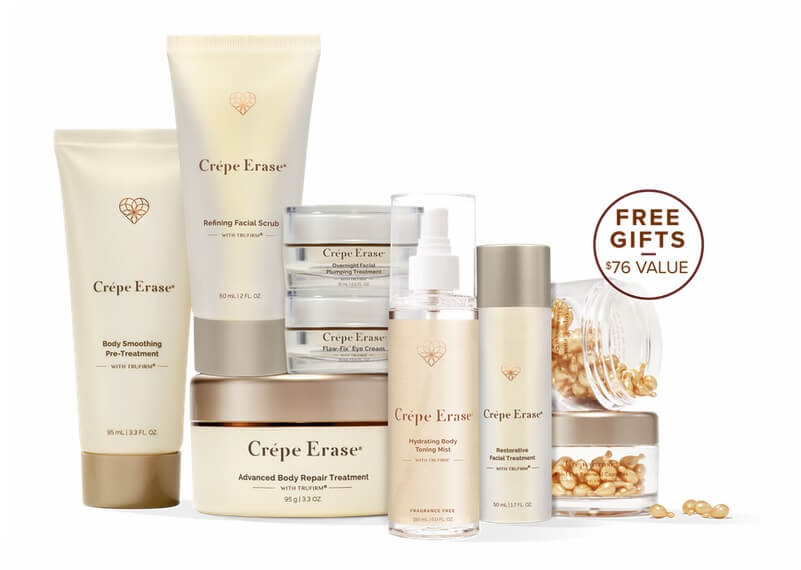 This should raise red flags in the mind of any savvy consumer.
Marketing 101 doesn't appear to have passed the Crepe Erase team unnoticed. Packaging products together at different price points means wooing a wider range of potential customers of varying budgets and degrees of skepticism.
Skincare experts will tell you: there is no rhyme nor reason why anyone should have to incorporate 7 different products into a routine for optimal results.
As for the "membership" system: this appears to be a way of distorting a recurring billing agreement into some kind of badge of exclusivity.
The trademarked TruFirmTM complex is a key selling point. This is how Crepe Erase convinces consumers that their product possesses truly unique, regenerative qualities. However, the vast majority of the ingredients on the label are present in literally thousands of other skincare lines.
Whatsmore, there are no independent clinical studies whatsoever that prove the effectiveness of TruFirm. Although the information on the term is opaque at best, it appears to be a combination of ingredients derived from apple, sage, and dill.
Crepe Erase may offer some limited benefits to people with dry and aging skin. But most, if not all, of its possible qualities, are likely linked with the inclusion of the same ingredients found in cheaper products.
For instance, the following ingredients are present in the Refining Facial Scrub (from the 5 and 7-Piece systems):
It's worth pointing out that anyone who has spent more than a moment or two reviewing budget cosmetics has seen similar formulations countless times.
Far from minimalist skincare, the ingredient labels of Crepe Erase products typically extend to dizzying lengths. Naturally, it would be beyond the scope of this article to document every item on these labels.
Nevertheless, most people will not suffer significant side effects when using Crepe Erase products as directed. However, ingredients both natural and synthetic can carry a risk of skin and/or eye irritation.
If you notice irritation or a worsening in the condition of your skin it is advisable to stop or reduce your usage of any product.
Bottom Line: Some ingredients in Crepe Erase are clinically proven. They are probably responsible for any benefits that users see in the condition of their skin. However, the same ingredients are widely available in a vast range of cheaper products. Clever marketing does not mask these facts.
back to menu ↑
Putting Crepe Erase To The Test: Does It Work?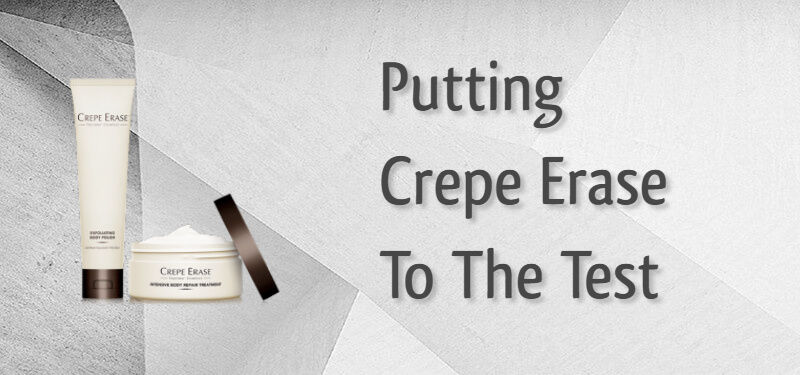 One of our objectives when reviewing skincare products is to judge whether the results match up to the big claims made in marketing campaigns and infomercials.
The team behind Crepe Erase base their sales approach on various strategies:
Endorsements from dermatologists
Studio demonstrations
Celebrity testimonials
Shopping channel pitches
They use these tactics because they work. They blend a combination of "science" with the social proof provided by well-known figures and women similar to the product's target audience. As we all know, insecurities regarding aging are very common. This can make it easier to exploit.
Here is a typical example of a Crepe Erase ad:
Cosmetics firms are adept at using the kind of language that customers want to hear. You've probably heard "clinically proven" a few times before but may not be exactly sure what it means.
The clinical studies organized by Crepe Erase appear to be based on results from a very small sample of users. In fact, in 2019, Guthy-Renker (the owner of Crepe Erase/The Body Firm) was investigated by the National Advertising Division (NAD) for making questionable claims in support of the product.
The report on this matter is extensive but the NAD concluded that evidence was lacking in support of various claims:
It challenges the assertion that Crepe Erase "prevents accelerated aging"
It requested the removal of celebrity testimonials that explicitly state that use of the product can result in the complete elimination of crepey skin
It asked for before-and-after photographs to be modified to represent more realistic outcomes
It asked for certain doctor testimonials to be modified or removed
It challenged claims that Crepe Erase is the "number one" anti-aging system and recommended it should instead be referred to as the "number one selling" product instead
This is a non-exhaustive list of the marketing claims challenged by the NAD.
However, what stood out to the RightHealth.com team most strongly in the report is the recommendation that Crepe Erase ceases linking the product's benefits with the three "powerful" phytonutrients — apple, dill, and sage i.e. TruFirmTM.
This is a critical point because, in a nutshell, it says that Crepe Erase may offer some benefits, but there is no proof that those benefits are due to TruFirm. Instead, much of the potential benefit is linked to the multitude of other common ingredients present in hundreds of other anti-aging body care products.
This undermines the notion that a "magical" proprietary ingredient makes Crepe Erase better than rival products.
Bottom Line: Crepe Erase use a plethora of marketing tactics to convince consumers that their product is highly effective and better than rival products. However, the National Advertising Division has challenged many of these tactics for being potentially misleading. Most notably, any benefits seen by Crepe Erase users are likely not related to TruFirmTM.
Before we write-off the product entirely, we'll take some time to review claims on the official website one-by-one:
Claim: Smoothes, Hydrates, and Softens the Skin
Crepe Erase claims that their product can smooth, hydrate, and soften the skin after just a single-use. This is one of the more modest benefits suggested by the manufacturer and is likely to be true for most users.
The "2-Step Essentials" are designed to exfoliate and then nourish the skin with hydrating ingredients. We touched on many of the components that serve this purpose earlier in our review. Rice bran wax is one of the exfoliating ingredients and moisturizing ingredients include olive oil, shea butter, and cocoa seed butter.
However, it's worth remembering that the ingredients in Crepe Erase that smooth and hydrate the skin are commonplace in the cosmetics industry and can be accessed for less money elsewhere.
In summary, any product that temporarily smoothes and hydrates the skin may offer some fleeting, cosmetic benefits.
Claim: Promotes Healthy Collagen and Elastin
Crepe Erase says that the product supports and reinforces the skin's "netting." However, they provide almost no scientific evidence in support of the claim, which makes it hard to substantiate.
Collagen is a protein that plays a vital role in the structural integrity of the skin. It's also a major part of connective tissues across the body and helps maintain the strength of bones, nails, and even hair.
Elastin is a flexible protein that, as you might guess, adds elasticity to tissues across the body. It allows the skin to "bounce back" into position when it is pressed or pulled.
In the skin, collagen and elastin are found in the dermis (which lies beneath the outermost layer — the epidermis). Diminishing levels of these proteins can cause wrinkles and sag.
It is normal for levels of both proteins to fall as we age, but the process can be accelerated by poor diet, sunlight exposure, smoking, and other environmental stressors.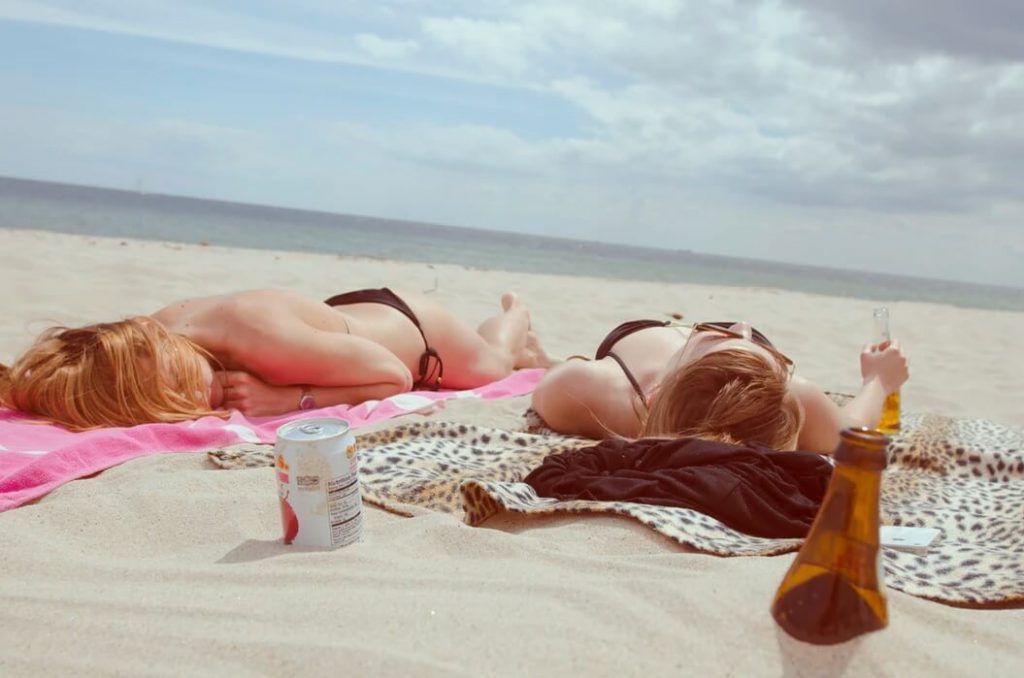 Crepe Erase claims that their "secret" ingredient, TruFirm, is designed to help "support natural elastin production" for "firmer, smoother, and healthier" skin. However, the problem with skin creams that claim to promote the production of elastin and/or collagen is that these compounds cannot themselves reach the dermis when applied to the skin.
Nevertheless, topically applied creams can play a protective and regenerative role in skincare as we age.
Antioxidants (including vitamins B, C, and E) can reduce the degradation of collagen and elastin by mitigating the damage caused by free radicals. Meanwhile, cell regulators like retinol and polypeptides can directly influence collagen/elastin metabolism and production (source).
Unfortunately, the botanical ingredients of TruFirm (apple, dill, and sage) are not the breakthrough in skincare science that you may have been led to believe.
Botanical extracts can act as antioxidants and may, therefore, play a role in reducing DNA damage to the skin when applied regularly. However, the ingredients of TruFirm are unlikely to be superior to other options, including green tea polyphenols, which may offer a protective effect against UV damage (source).
Crepe Erase does include some of the above ingredients in some of their products. However, the "2-Step Essentials" are nothing more than a garden-variety exfoliating product coupled with an intensive moisturizer.
Other products on the market offer a stronger variety of ingredients at a more affordable price. We'll discuss some of these alternatives to Crepe Erase later in this article.
However, keep in mind that skin aging is a complex process. A science-based skincare routine can mitigate some signs of premature aging. However, it won't compensate entirely for a poor diet, an unhealthy lifestyle, or the failure to protect the skin from sun damage.
Claim: Visibly Treats and Improves Signs of Aging and Slackening Skin
Anyone who read our review of Plexaderm may have spotted a recurring theme in the lexicon of skincare marketing. Manufacturers claim that a product can "reduce the visible signs" of wrinkles but this isn't necessarily the same thing as actually "reducing wrinkles."
Truthfully, it is unlikely that Crepe Erase will lead to dramatic improvements in the elasticity of slackening skin. The production of collagen and elastin do tend to slow down as we age.
Therefore, any improvement in this respect is likely to be modest. This makes it important to manage your expectations and not to expect a radical transformation from the use of Crepe Erase.
Bottom Line: Crepe Erase has been asked to amend many marketing claims because of the likelihood they could confuse or mislead customers. TruFirm is unlikely to bring about dramatic improvements in the appearance of skin. Competing skincare brands offer products with better ingredients at a more affordable price.
back to menu ↑
Is Crepe Erase Worth It?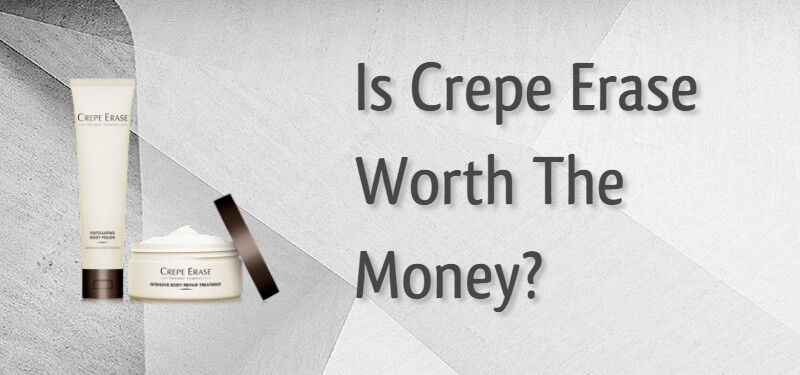 When you read a review of any product you generally want to know two things. First, does it work? And secondly, if so, is it worth the money?
It might not shock you to hear that our answer to the second question is no. In our opinion, Crepe Erase does not offer good value for money.
There are some ingredients in Crepe Erase's products that might help soften the skin to the touch and add moisture to dry and flaky parts of the body.
However, there are better anti-aging body treatments available at a cheaper price. If you choose to incorporate one into your regimen then look for those containing evidence-based ingredients.
We touched on many of these ingredients earlier, including:
Vitamin B3
Vitamin C 
Vitamin E
Retinol
Polypeptides
Alpha-hydroxy acid(s)
I would stop short of calling Crepe Erase a scam. The product range does contain some common, effective ingredients that will help soften and moisturize skin. They also promise to accept returns minus shipping and handling costs.
On the other hand, the product is overpriced and does appear to be promoted using some questionable marketing practices. Whether or not this meets your definition of a scam will depend much on your outlook.
However, it's clear that when you purchase Crepe Erase, you are paying a premium for clever marketing. Before-and-after photographs may be hard to resist. Nevertheless, these are one of the many marketing tactics used by the manufacturer that has been called into question by the National Advertising Division, an industry regulator.
Auto-billing is another part of the Crepe Erase business model that gives us some cause for concern. They claim that this service offers convenience and savings but it can also cause problems if charges appear on your statements for products you didn't want.
Nevertheless, you can cancel this agreement at any time through the official website or by dialing 1-888-708-2042.
Bottom Line: Crepe Erase is overpriced and fails to offer good value for money, even though it may offer some fleeting, cosmetic benefits. The company does accept returns, minus shipping and handling costs. Consumers should consider investing their money in a cheaper product that includes evidence-based ingredients.
back to menu ↑
What Do Crepe Erase Customer Reviews Say?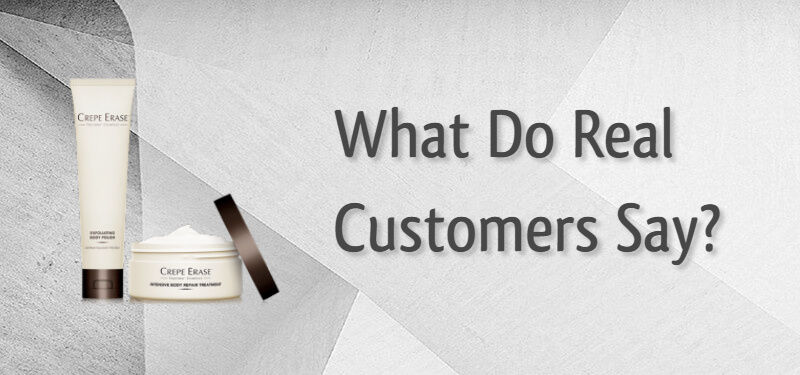 Crepe Erase reviews from around the web are mixed. Some customers speak about the product favorably but there are many who've been left disappointed with their purchase.
Commercials and YouTube videos often feature experts and "real" customers but it's important to keep in mind that these people may be paid in return for their review or endorsement.
Crepe Erase products are retailed on Amazon.com, among other places. Here is a summary of current user reviews:
The intensive body repair treatment scores 3.8/5. 17% of the 918 customer reviews are rated 1 star (the lowest possible). In contrast, 56% of the customer reviews are 5 stars (the highest possible).
The exfoliating body polish scores 4.2/5. 11% of the 179 customer reviews are rated 1 star and 67% are rated 5 stars.
The "2-Step Essentials" system scores 3.5/5. 20% of the 266 customer reviews are rated 1 star and 40% are rated 5 stars.
Guthy-Renker (retailer of Crepe Erase) is rated A by the Better Business Bureau (BBB). However, there are 158 registered customer complaints. The staff of Guthy-Renker appears to be proactive in working with customers to resolve these issues.
A common theme in these complaints is the company's auto-shipping system, which can lead to unwanted charges if customers fail to cancel in time.
One purchaser of the intensive body repair treatment states that she noticed no difference between the product and a much cheaper option sold by the Gold Bond brand.
Another buyer of the "2-Step System" named Judith argues that Crepe Erase commercials are very misleading. She states that the product does moisten dry, scaly skin but that it is no better overall than cheaper, drugstore products.
On the other hand, some positive reviews praise the effectiveness of the product. One purchaser claims she saw a noticeable improvement in the condition of her hands and chest after two weeks of use. Meanwhile, another buyer urges people to be realistic in their expectations. She goes on to say that Crepe Erase works well as a moisturizer and appears to reduce the visibility of her wrinkles.
Elsewhere, Crepe Erase's "2-Step System" is rated 4.2/5 at Kohls and 4.4/5 at QVC. However, by sorting the customer reviews at QVC by "helpfulness" we see that 1-star reviews are consistently the most upvoted.
It's worth keeping in mind that Crepe Erase does come with a money-back guarantee. Although return terms may differ according to the retailer in question, orders placed through the official website come with a 60-day return window. Products can be returned used or unused but any refund will be processed with shipping and handling costs deducted.
Bottom Line: Customer reviews portray a mixed picture with some buyers praising the product as an effective moisturizer and others complaining that it works no better than cheaper alternatives. Orders placed through the official website come with a 60-day return window.
back to menu ↑
More Information
So far we've dug deep into Crepe Erase's ingredients, considered its value for money, and scrutinized feedback from real customers. Before reaching our final verdict for the product we'll provide some useful information for those readers who are already using the product or still wish to buy it.
Where to buy it
Crepe Erase is primarily sold online and through shopping channel infomercials. The list below shows confirmed retailers and prices for the "2-Step Essentials" accurate at the time of publishing.
Official website ($39.95)
Amazon.com ($50)
QVC ($89 — larger bottles)
Kohl's (out of stock)
Walmart ($74.95)
Ulta Beauty ($54)
Our research suggests that prices for Crepe Erase differ substantially between retailers. Although QVC charges a higher price, they also appear to sell the product in much larger bottles (10 fl oz vs 3.3 fl oz).
As with many cosmetics, savvy consumers can find the most competitive prices by shopping around.
Keep in mind that orders placed through the official website may involve enrolment in a "membership" system through which future products are shipped to you automatically. If you don't wish to be charged routinely then you must cancel this membership.
There is a 60-day return window in which used or unused product can be returned for a refund when your order is placed through the Crepe Erase website. However, refund policies vary between retailers. For instance, the standard return window for Amazon and Walmart orders is 30 days.
It does not appear that Crepe Erase products are currently available from Target or Walgreens. However, it is sold by some third-party retailers on eBay.
How much does it cost?
The price of Crepe Erase varies according to the retailer. Our research suggests that the official website is best for orders of the smaller 3.3 fl oz containers and QVC is cheapest for orders of the full size 10 fl oz bottles.
The auto-billing program works as follows:
An initial pair of smaller Crepe Erase bottles are delivered for $39.95
One month later, a pair of the larger Crepe Erase bottles are delivered
From this point on, a new supply is delivered once every 3 months
Crepe Erase bill customers $39.95 plus $2.99 in shipping costs every month until you call to cancel
The product does not appear to be available in stores and we are not aware of any ongoing free trials or "try-before-you-buy" offers. There also doesn't appear to be any current coupons or promo codes for online purchases.
Crepe Erase is a very expensive product when compared to similar anti-aging body treatments on the market. We'll talk about potential alternatives later in this article.
How do I use it?
If you have the anti-aging body treatment already you may be wondering how to apply it for optimal results. Here is the manufacturer's suggested method for the "2-Step Essentials":
The "Body Smoothing Pre-Treatment" is essentially just an exfoliator and should be applied as such
Wet areas of the body with crepey skin and apply the product
Gently massage the product into the skin, then rinse and pat dry
Use once daily
Follow this with the "Advanced Body Repair Treatment":
Apply liberally to areas of dry and crepey skin
Massage the cream gently until fully absorbed
Use up to two times daily
It's important to remember that Crepe Erase is not a substitute for sunscreen. Protecting the skin from sun damage is the singularly most important aspect of skincare and should not be taken lightly.
Does it cause problems or side effects?
Some Crepe Erase products contain beta-hydroxy acid (BHA) and alpha-hydroxy acid (AHA). These ingredients can work as excellent exfoliators but they may also lead to peeling and dryness. The application of moisturizer will usually help mitigate these side effects.
Both natural and synthetic cosmetics ingredients can cause skin irritation. If this happens, it is advisable to reduce usage or stop completely before consulting a doctor.
If any quantity of product gets into the eyes then rinse thoroughly with water.
It is also advisable for pregnant and nursing women to consult their doctors before starting the use of any new product.
What other products does Crepe Erase offer?
Guthy-Renker is the owner of the brand and this company also retails well-known products such as Proactiv (acne treatment), Meaningful Beauty (anti-aging), and Sheer Cover (mineral makeup).
The Crepe Erase brand is attached to a large amount of anti-aging body treatments, including:
Exfoliating Body Polish
Intensive Body Repair Treatment
Advanced Body Repair Treatment
Hydrating Body Toning Mist
Body Smoothing Pre-Treatment
Ultra Hydrating Body Lotion
Anti-Aging Hand Repair Treatment
It's also used for many anti-aging face treatments:
Restorative Facial Treatment
Overnight Plumping Facial Treatment
Flaw-Fix Eye Cream
Flaw-Fix Refining Lip Polish
Flaw-Fix Intensive Lip Repair Treatment
Advanced Firming Eye Serum
Refining Facial Scrub
Advanced Refining Facial Scrub
Advanced Restorative Facial Treatment
4-in-1 Eye Renewal/Line Smoothing Capsules
Again, it's worth repeating that a minimalist anti-aging skincare routine should never have to include 7 or more steps.
Some of these products can be purchased as standalone items while others are only accessible in various bundles.
It would be beyond the scope of this review to provide a detailed analysis of every skincare product in the range but we may feature some of them shortly.
Bottom Line: A dizzying number of products are sold under the Crepe Erase skincare line. There are several authorized retailers of these products including Amazon and Kohls. The product is expensive and may come with a "membership" through which customers are billed each month for additional deliveries.
back to menu ↑
Our Verdict & Alternatives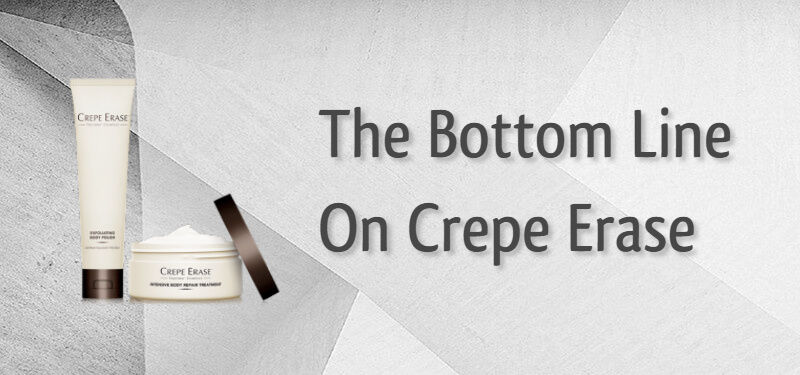 Whenever purchasing an anti-aging treatment it's important to manage your expectations. Getting rid of crepey skin completely isn't easy and over-the-top promises are a red flag in cosmetics marketing.
Celebrity endorsements from figures like Jane Seymour can be very compelling. However, her enviably youthful complexion is a result of much more than a single product like Crepe Erase.
Alternative Cosmetics
Preventative anti-aging skincare fundamentals should not be neglected. This means diligently using sunscreen in addition to the use of anti-aging face and body treatments.
When selecting anti-aging treatments you should choose a product formulated with evidence-based ingredients. This often means overlooking marketing claims to find something that is both effective and affordable.
Inspect the label carefully for strong ingredients like those we mentioned earlier in this review.
Here are some great anti-aging body exfoliators for crepey skin:
Here are some excellent anti-aging body treatments for crepey skin:
Although retinol is an excellent anti-aging ingredient it can heighten the sensitivity of the skin to sun exposure. Therefore, it should be used in combination with sunscreen.
Our top face treatments can be seen in our anti-aging serums buyer's guide.
Crepe Erase products may also offer benefits to aging skin but they are unlikely to work any better than a host of cheaper alternatives. The TruFirm complex of ingredients is promoted as an anti-aging breakthrough but, in reality, most of the benefits of these products come from the effects of alpha-hydroxy acid and intense moisturization.
Lifestyle Factors
Exercise and diet can keep us looking and feeling younger than our years. A good quality diet provides the body with the building blocks it needs to maintain healthy skin.
According to Healthline, foods including chicken, seafood, and leafy greens can help the body to produce collagen — a protein that helps the skin stay supple and firm.
Conversely, high sugar intake, smoking, and sunlight can deplete collagen and leave us looking older than our years.
Dermatological Treatments
Cosmetic procedures are not for everyone. However, some people do turn to these options in search of solutions to crepey skin. They include:
Fractional laser treatment
Cryolipolysis
Ultrasound
Dermal fillers
This useful article from Healthline describes some of the available treatments in greater detail.
PROS:
May offer some benefits by exfoliating and moisturizing skin
Money-back guarantee
Proactive customer service
CONS:
Lacks some of the best anti-aging ingredients
Overpriced in comparison to similar alternatives
Auto-shipping "membership" may lead to unwanted charges
An excessive number of products in certain bundles (e.g. "7-Piece System")