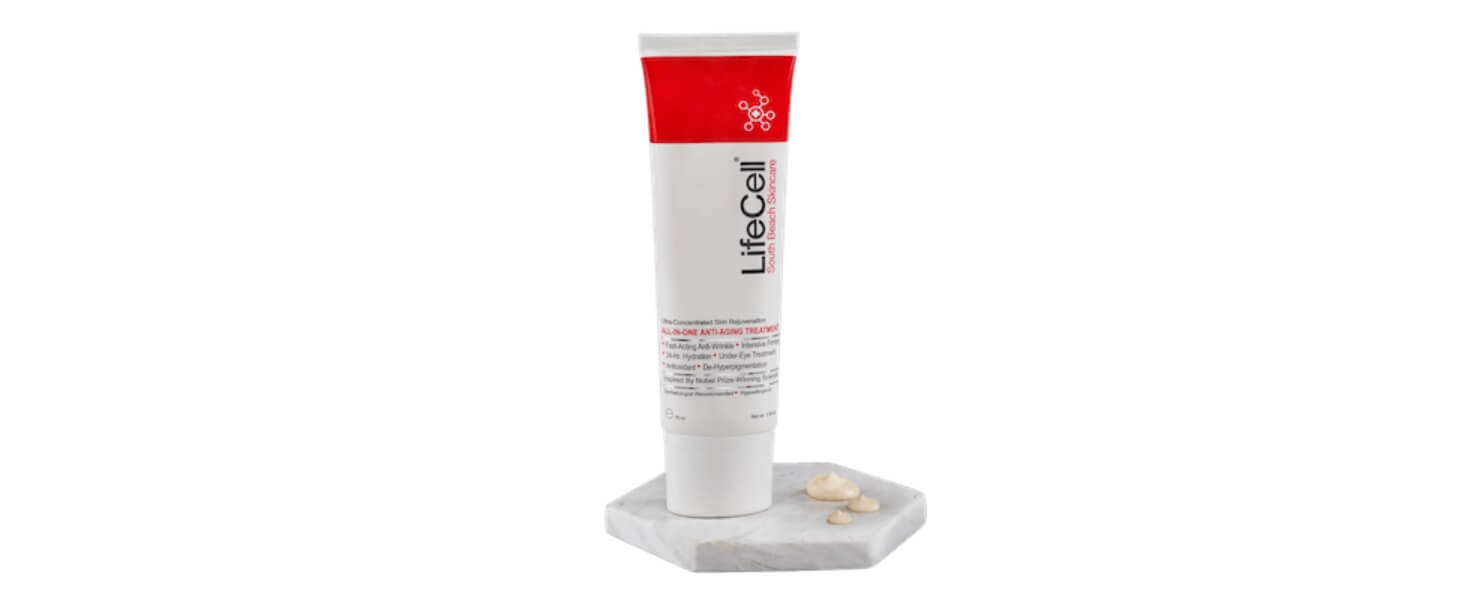 LifeCell is an anti-aging skincare line marketed by a Florida-based company. It comes with an eyewatering price tag and some equally bold marketing claims. However, strong science should always be based on evidence.
Therefore, I wrote this LifeCell review to independently review the brand's claims and put them to the test rigorously. We'll take a look at whether the marketing matches reality and reach some conclusions on whether the product(s) are worth the money or not. Let's get started.
What Is LifeCell?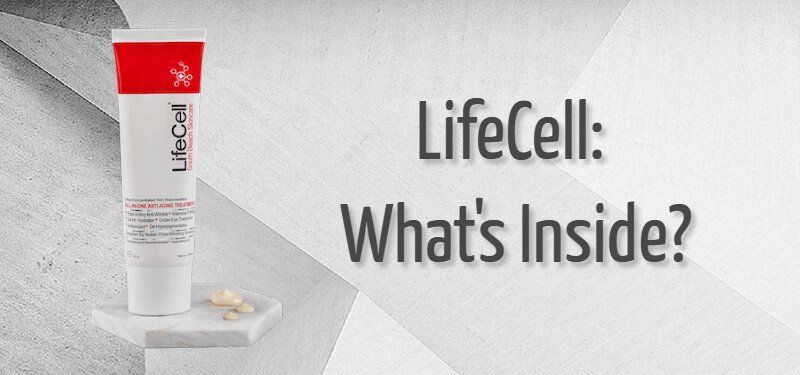 LifeCell South Beach Skincare sells a wide range of cosmetics. However, they're best-known items come in a 4-piece kit consisting of a cleanser, anti-aging treatment, neck firming serum, and eye treatment.
We'll begin by taking a look at what's inside these products and draw some science-based conclusions.
The ingredients list(s) are an ideal place to start:
LifeCell pH Balanced Cleanser
Bottom Line: LifeCell's cleanser relies heavily on plant-derived ingredients, some of which may have antioxidative and anti-inflammatory properties. It is best described as a gentle cleanser and features ingredients found in many other skincare lines.
LifeCell All-In-One Skin-Tightening Treatment
Following the cleanser, LifeCell recommends applying their anti-aging treatment to "targeted areas." Specifically, the face and neck.
Bottom Line: LifeCell's all-in-one anti-aging treatment turns to a range of proven and effective ingredients. However, it is worth noting that all of these ingredients are available in products sold by other brands at lower prices.
LifeCell Neck Firming Serum
This product also doubles down on some of the ingredients we saw earlier, including ubiquinone (also known as Coenzyme Q10), chamomile extract, and tea extract.
Bottom Line: This neck firming serum relies on a blend of plant-based ingredients coupled with peptides, vitamin E, and ubiquinone. Again, some of these ingredients may offer modest benefits but they are not exclusive to LifeCell products.
LifeCell Cooling Under-Eye Treatment
Shea butter is a widespread moisturizing ingredient that helps restore skin barrier function (source).
Vitamin D has antioxidant properties when applied topically and may offer a degree of photoprotection (however, it is not suitable as a substitute for sunscreen) (source).
Eyeliss is a trademarked term for a peptide/plant extract combination created by French laboratory Sederma. They claim that the ingredient tackles eye bags and puffiness (source).
LifeCell has attempted to pack a huge number of ingredients into this under-eye treatment, including many that are also present in earlier products in their 'kit'.
It contains ceramides, retinol, plant extracts, vitamin C, a range of peptides, ubiquinone, and vitamin E.
Bottom Line: The LifeCell approach should be clear enough by now: pack as many scientifically proven anti-aging ingredients into one product as possible. This method is creditable but it is again worth pointing out that all of the ingredients used by LifeCell are non-exclusive — meaning they're also available in products sold by other brands.
back to menu ↑
Putting LifeCell To The Test: Does It Work?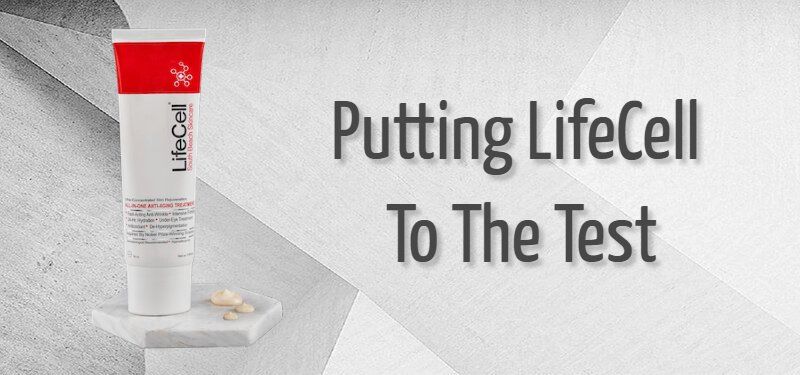 Let's be honest: marketing in the skincare industry is out of control. This can leave many people not knowing who to trust and who not to anymore.
Plus, it isn't just a question of what works and what doesn't. It's a matter of whether premium-priced products actually work better than budget options.
For instance, LifeCell proudly states that their product is 'inspired' by Nobel Prize-winning science. But for all the bold talk, this doesn't leave us any closer to understanding what LifeCell products actually do for the average user.
Many skincare firms stage short trials in order to give credibility to claims that their product is "clinically proven." However, in LifeCell's case, the PDF containing details of clinical testing shows absolutely no information on the study protocols. This makes it impossible for independent researchers to scrutinize the methods and approaches used in the trial.
Bottom Line: Like most skincare lines, LifeCell back their products with extremely bold claims. However, they provide almost no information on the study protocol used in their clinical trials.
Nevertheless, we'll use this section of our review to evaluate the specific claims made by LifeCell and draw some conclusions on whether they're likely to be true:
Claim: Instantly masks wrinkles with light-reflecting microtechnology
One of LifeCell's more eye-catching claims is that the product fights against wrinkles in both the short and long term. However, they seem reluctant to go into detail on exactly which ingredient is responsible for the immediate effects.
In LifeCell's words, the all-in-one treatment incorporates micro fillers and "light-reflecting microtechnology" to almost completely eliminate the appearance of fine lines.
Our investigation into this claim led us to zero in on one particular ingredient: silicon oxide.
Evidence in support of silica preparations in cosmetics is extremely weak. Silica nanoparticles may serve as an anti-caking agent and can enhance the 'texture' of skin creams (source).
Health regulators in Europe say they have no evidence to suggest that these nanoparticles are toxic. However, because many of these ingredients are new to the market, there are still concerns that they may carry health risks (source).
Even if LifeCell does contain fast-acting ingredients, they serve only to temporarily mask wrinkles (much like makeup). Indeed, they do nothing to meaningfully counteract the underlying causes of visible skin aging. This echoes a sentiment we shared in our Plexaderm review — another supposedly rapid solution to facial lines.
We strongly encourage LifeCell to be more transparent in discussing their 'light-reflecting microtechnology' to open up close scientific scrutiny of the claim. These ingredients are not unique to LifeCell products so there should be no risk associated with free and open sharing.
Rating: E
Bottom Line: LifeCell does not support their claims of immediate wrinkle-reducing effects with credible science. Even if the product does offer some 'masking', covering up wrinkles for a few hours does nothing to address the underlying causes of these lines and wrinkles.
Claim: Offers intensive firming / Restores 'appearance' of elasticity
Skincare companies are masters of clever wordplay. Often you'll find products promising to 'reduce the appearance' of wrinkles and sagging. This can leave consumers scratching their heads wondering whether 'reduced appearance and 'reduced' period are the same thing.
Now, LifeCell does contain a few ingredients associated with modest improvements in skin elasticity. For instance, palmitoyl tripeptide-5, vitamin E, retinol, and deanol.
Sadly, however, loss of skin elasticity and sagging are particularly difficult to meaningfully reverse. If you begin using LifeCell with expectations of dramatic improvement then you're likely to be disappointed.
The American Academy of Dermatology (AAD) says that results from skin-firming creams like this one are "modest at best." There is a range of non-invasive and minimally invasive procedures that can help tighten and lift the skin.
However, these procedures aren't for everyone. Indeed, they are a serious and potentially expensive course of action.
Rating: C
Claim: Minimizes the appearance of lines & wrinkles
LifeCell's range of products contains virtually every staple anti-aging ingredient on the market, most of which are proven to be at least modestly effective in alleviating lines and wrinkles. For instance:
Emollients
Peptides
Vitamins C & E
Retinol
Hyaluronic acid
Ceramides
As we saw earlier, many of these ingredients offer anti-inflammatory and antioxidant properties. Hyaluronic acid improves moisture retention and retinol & vitamin C may promote the synthesis of collagen.
Keep in mind that results won't appear overnight and won't be as 'transformative' as advertising can often suggest. These ingredients are also widely available in other skincare lines.
Rating: B
Claim: Reduces under-eye bags
Under-eye bags are common as we age and are caused by the weakening of supporting muscles and fluid accumulation. Meanwhile, they may be exacerbated by poor sleep, allergies, and smoking.
Under-eye creams targeting bags usually focus on reducing the accumulation of fluid in the area. This can in turn help reduce the characteristic 'swollen' appearance of eye bags.
A plant extract/peptide combination called Eyeliss appears to be LifeCell's primary weapon against puffiness. It appears in the ingredients list of the cooling under-eye treatment.
Peptides in Eyeliss may also contribute to small improvements in skin elasticity and skin tone (source).
Rating: C
What Can and Can't LifeCell Do?
LifeCell includes a host of well known anti-aging ingredients. All of these ingredients are available in lines sold by other skincare brands.
These products may modestly improve the appearance of fine lines/wrinkles, sagging skin, and discoloration.
However, the results are unlikely to be as drastic as the before-and-after photos. There are alternative solutions that offer more lasting results at a fraction of the cost. Preventative skincare measures include the use of sunscreen and adherence to a healthy lifestyle.
Certain cosmetic procedures can also tackle signs of skin aging, but this route carries its own set of risks and can be expensive.
Bottom Line: LifeCell promotes its products in all the conventional ways — bold adverts, glowing reviews, before-and-after photos. However, these products rely on the same proven ingredients present in thousands of cheaper lines. Many people will see at least a modest benefit from regular use, but don't expect anything drastic!
back to menu ↑
Is LifeCell Worth It?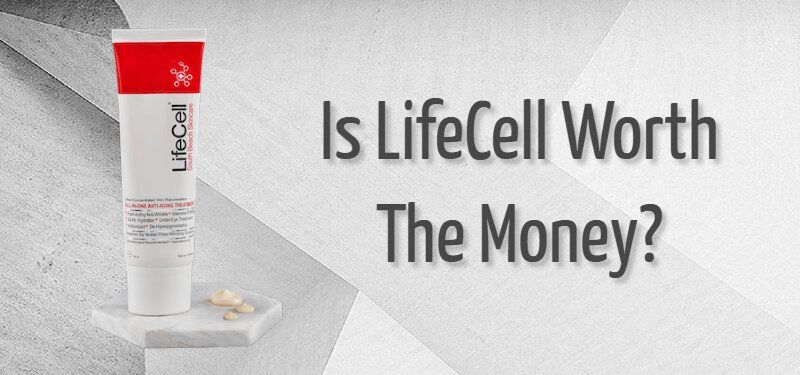 In a nutshell: no.
Reviews on the internet tend to be extremely polarized. That is, we see glowing endorsements and scathing criticism but rarely much in between.
The goal of our team is to introduce a bit of nuance into the debate. We investigate the facts, develop a full picture, then draw honest, science-based conclusions.
So, here's why we don't recommend LifeCell:
People face important buying decisions every day. For most of us, this is a process of figuring out which product offers the best quality at the most reasonable price.
LifeCell doesn't use groundbreaking new ingredients concocted in a secretive laboratory! They source some ingredients from multinational research firms (who also supply other brands) and some from the conventional channels used by all retailers.
For the sake of clarity, we do not believe LifeCell is a scam. They are a long-established retailer and they follow a conventional (if not particularly earth-shattering) methodology in selecting ingredients.
However, these products fail to pass the 'value test'. This is quite simply because they don't offer enough 'extra' to justify the hugely inflated price tag. The 4-step kit currently comes in at a whopping $446.
We recommend taking the time to read one of our buyer's guides or performing your own research to locate similar ingredients at a more affordable price.
Bottom Line: LifeCell is not a scam — however, in our opinion, they do retail effective and widely available anti-aging ingredients at wildly inflated prices.
back to menu ↑
What Do Customers Say?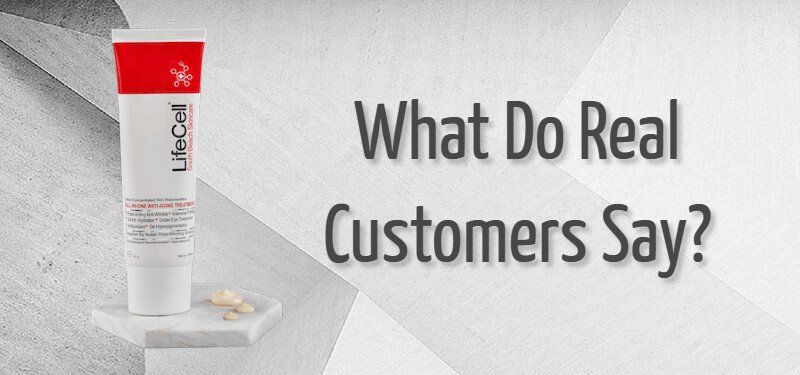 Customer reviews are plagued with reliability issues and it can be difficult even for experts to tell authentic from the fake. This issue certainly isn't limited to LifeCell.
Some retailers attempt to manipulate online sentiment by purchasing or incentivizing reviews. In more egregious cases, brands may even pay to have competitors barraged with negative reviews.
Nevertheless, we take time in each review to analyze thoughts from around the web in an attempt to build a broad picture for our readers.
LifeCell's official website is packed with glowing customer reviews. However, opinions elsewhere are extremely mixed.
The company is listed on the Better Business Bureau (BBB) as 'LifeCell / South Beach Skin Care.' It is rated C-. The average of eight customer reviews is just under 2/5 stars. In addition, there are 33 closed complaints over the last three years. LifeCell appears to be proactive in answering these complaints.
Elsewhere, on Amazon, LifeCell's products are rated as follows:
pH Balanced Cleanser — 4.2/5 (based on 34 ratings)
All-In-One Anti-Aging Treatment — 3.8/5 (based on 515 ratings)
Neck Firming Serum — 2.6/5 (based on 6 ratings)
Cooling Under-Eye Treatment — 3.6/5 (based on 74 ratings)
Another way we try to gauge sentiment on eCommerce sites is by looking at which reviews are most frequently marked as 'helpful' by the community.
On Amazon.com, 1-star reviews are consistently voted as the most helpful.
One purchaser complains that LifeCell products caused her to suffer breakouts. Another states that she adhered to the regimen carefully but was disappointed to see no beneficial results, particularly at an exorbitant cost.
However, a different buyer talks positively about enjoying better "nourished" and "hydrated" skin after applying LifeCell products. Still, another states that she enjoyed "noticeable" (although not miraculous) changes in his skin.
Bottom Line: Customer reviews around the web paint an extremely mixed picture. Complaints focus primarily on the high price and lack of substantial enough benefit to justify the expenditure.
back to menu ↑
More Information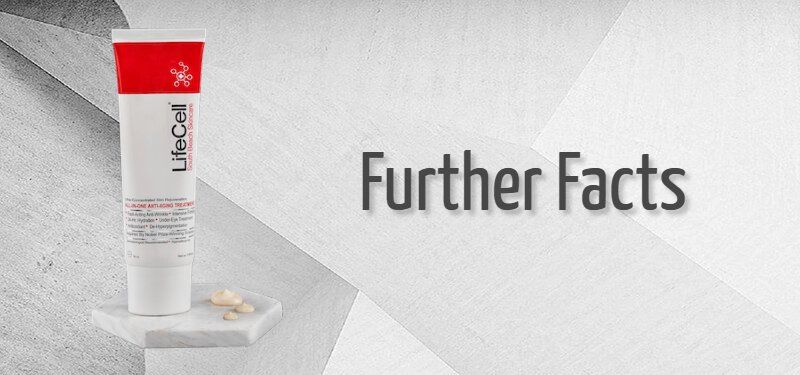 Up to this point, we've examined the scientific evidence behind LifeCell's ingredients, considered whether the product works as advertised, and studied real feedback from customers. Before reaching our verdict, we'll cover some additional information for readers still interested in using the product(s).
Where to buy it
Naturally, savvy consumers are always on the lookout for good prices. LifeCell appears to retail exclusively online so you're unlikely to have much luck sourcing it in any store (neither CVS nor Walgreens).
The following list contains our research regarding confirmed retailers and prices for the 'All-In-One Anti-Aging Treatment (2.54 oz)' (accurate at the time of publishing):
Official website ($189)
Amazon.com ($169.99)
Walmart ($189)
AskDerm ($189)
Amazon appears to be the best choice for thrifty shoppers. However, remember that shipping and return policies can vary between retailers.
We were also able to locate LifeCell items on Poshmark, Mercari, and eBay. Proceed with caution if using one of these buying options because these products carry a greater risk of being inauthentic or resold by non-official distributors.
How much does it cost?
We found $189 to be the standard price for the 2.54 oz anti-aging treatment. However, the same product retails for $19 less on Amazon. This amounts to a nifty 10% discount.
It is possible that LifeCell offers cheaper rates on Amazon due to fierce competition for sales on the platform.
LifeCell is known to run occasional promotions involving freebie extras. For instance, at present, they offer a free tube of their overnight hand treatment on qualifying purchases.
Now, about that 'free trial'…
Sometimes promotions like this one really are too good to be true. In reality, the LifeCell free trial is simply a variant on their pre-existing 30-day return policy.
Customers can make the first purchase and pay only shipping charges upfront. However, you will still be billed at full retail price if you fail to return the remaining used or unused product within the designated 30-day window.
If you fail to do so, you'll be billed and auto-enrolled into a repeat billing agreement. Under this agreement, your order will be charged and shipping every 60 days.
Because of the way in which the billing agreement is set up, you end up paying exactly the same amount under the 'free trial' as you would have by simply paying full retail price in the beginning.
This leads us to a critical point — if you don't want to be hit with unpleasant, unexpected charges you must be vigilant in canceling your enrolment in the 'VIP Discount Club.'
We are not aware of any active coupons or promo codes but retailers may offer periodic discounts from time to time.
What is the return policy?
As we mentioned just above, LifeCell does offer a 30-day return window. Customers can return the unopened product(s) within 30 days for a full refund (minus shipping charges).
Also, don't expect the process to be easy. The company will only issue refunds when the return package includes a copy of the receipt (or order number), your name, address, email address, and phone number, plus an explanation of why you are returning the purchase.
This return policy is stingier than those offered by many other skincare retailers. We frequently encounter return windows as long as 90 days and many companies accept returns of both used and unused items.
Keep in mind that this return policy applies to orders placed through the official website. Policies of third-party retailers may differ.
How do I use it?
Each LifeCell product comes with its own detailed set of instructions for application. The under-eye treatment also comes with a metal applicator for greater precision.
This skincare line can be used by both men and women.
Does it cause problems or side effects?
LifeCell products are unlikely to cause serious side effects in the majority of users. However, we always advise consulting with a professional before making significant changes to your skincare regimen.
Indeed, the company advises that its product line is paraben-free, cruelty-free, fragrance-free, and hypoallergenic.
Remember that retinol-containing products can lead to increased photosensitivity. This can leave you more susceptible to sunburn after prolonged sun exposure.
Applying sunscreen regularly throughout the day is therefore pivotal, particularly as most LifeCell products do not contain sun protection.
What other products does LifeCell offer?
Surprisingly, LifeCell does have a substantial product line and it extends beyond the four products in the main 'kit.'
Other products include:
Lip Plumping Treatment ($49)
Purifying Mask ($78)
Firming Body Butter ($129)
BB Cream ($47)
SPF 50 Moisturizing Balm ($47)
Hair Restoration System ($189)
ResV+ supplement ($137)
It would be beyond the scope of this article to review each of these products in turn but we may feature some of them in future reviews.
Bottom Line: LifeCell has a relatively stingy 30-day return window for unused products. The 'free trial' may lead to unpleasant auto-billing charges if it isn't canceled promptly. At present, Amazon offers the best prices on most products in this line.
back to menu ↑
Our Verdict & Alternatives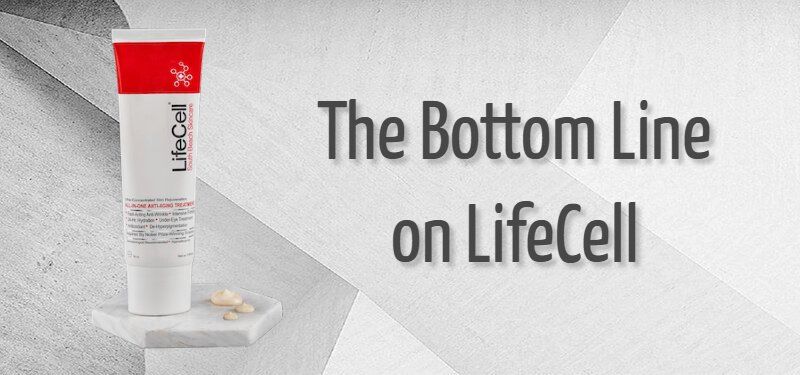 In summary, LifeCell retail extremely expensive anti-aging products that may offer some modest improvement in the appearance of lines and wrinkles. However, none of the ingredients in LifeCell products are exclusive to this line and all of them can be found in cheaper alternatives.
Effective anti-aging skincare isn't just about the creams you use. There are several other important steps you should take:
Follow a healthy lifestyle and diligently use sunscreen
Eliminate harsh, drying, or irritating products from your skin and/or makeup routine
If you do choose to invest in anti-aging skincare, look to source a more budget-friendly option with evidence-based ingredients
Drastically Overpriced
LifeCell does pack a number of effective anti-aging ingredients into their petite serums. However, these ingredients are all available elsewhere at lower cost.
PROS
May modestly improve fine lines, wrinkles, and under-eye bags
CONS
Stingy return policy
Hugely overpriced
Doesn't contain sun protection (unless additional products are purchased)
Add your review
|
Read reviews and comments